Our counselling approach is not what you would normally find in other settings.   We are unashamedly different because we understand that not everyone wants to sit in a strange room with a person they have just met, to share their precious stories.
If you would prefer to sit in a park under a tree, in the comfort of your own backyard, or do a 'walk and talk' session in your safe nature place, then our approach may be a refreshing and welcome change.  There is a growing body of research showing that simply being in nature has a positive effect on your physical, social, emotional and mental well-being.
You can read more about How We Work using our integrative therapeutic approach incorporating narrative therapy, eco-therapy, art therapy and more.  Lucy is an Accredited Mental Health Social Worker with the Australian Association of Social Workers,  a member of the Association of Nature and Forest Therapy Guides and Programs and Nature and Wellbeing Australia.  She has a current Working With Children Check (No. WWC1564166E).
For more information about what an Accredited Mental Health Social Worker can do for you, download this brochure.

Who will benefit from this therapeutic approach?
This approach may fit for you, if you are:
Seeking relief from chronic stress
Healing from the effects of trauma including domestic or family violence
Living with the effects of 'depression', 'anxiety' or (insert your own name for a mental health concern)
Suffering from physical pain, recovering from illness or surgery or adjusting to life with a disability
Experiencing suicidal thoughts or self harm; seeking purpose for living
Healing from grief or loss
Experiencing a life transition or difficulties in relationships
affected by extreme climatic events
worried about the future of our earth or environmental concerns; eco-anxiety
Wary of traditional talk therapies in an office setting
Prefer spaciousness and room to breathe, rather than containment of four walls
Seeking therapeutic support in a relaxing, natural setting where there is no pressure to eye-ball the counsellor
Open to developing a stronger connection to the earth and using nature as co-therapist
Open to using art materials to explore stories, thoughts and feelings where communication is tricky
Open to exploring multi-layered stories of strength and resilience; unearthing your preferences for living going forward
You can also read 7 Reasons for Choosing Me as Your Therapist.
Who do you work with?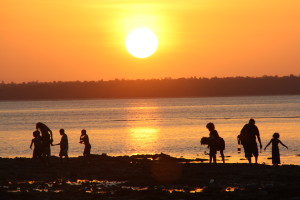 Most of my experience has been working with children, young people and women.  I have also worked with men and am willing to negotiate a framework of working that will feel comfortable and safe for both of us.
What about safety and privacy?
Working therapeutically outdoors can present different challenges such as bad weather, maintaining confidentiality where members of the public may be walking through, and health and safety concerns in the natural environment.  We take extra care to assess for hazards, minimize risks and to protect your privacy as much as possible.  Sometimes a change in the weather can turn into a learning experience or opportunity for working through 'edges'.  Nature sometimes works that way.  However, there is also an option to reschedule if this would be more comfortable for you.
If being outdoors is not your thing, you can see us at Health One, Nambucca Heads or Bowraville Community Health Centre.
Where does counselling happen?
We offer outreach counselling services in the Nambucca Valley and can use a variety of natural settings.  You can nominate your preferred safe place in nature or we can suggest a suitable location near you.  We also offer sessions in the comfort and safety of your own backyard, home, workplace, school or at a local clinic.  You may also be eligible for tele-health services (video/audio).
How much does it cost?
As of January 1, 2021 our fees are $120 per hour, payable on the same day of service.  Medicare rebates are available if you have a Mental Health Treatment Plan from your GP.  (As we are an outreach service, the rebate is $99.40).  There may be a larger gap fee for appointments longer than one hour or where extra travel is involved.  For those experiencing financial hardship, we offer Bulk billing through Medicare.    

If you have a Health Care or Pension Card, you may be eligible for free counselling through the Connect To Well-being program.  To check eligibility criteria and access this service, please see instructions below.
If in doubt, please contact us to discuss your circumstances.
How do I receive services under Medicare?
Under Medicare's Better Access to Mental Health Care initiative, patients can receive up to 10 sessions of Focused Psychological Services per calendar year from an Accredited Mental Health Social Worker.  Your GP will initially recommend a course of treatment of 6 sessions.  After this time, we will send a short report back to your GP for review.  Further courses of treatment can be recommended to access the remaining 4 sessions.
To qualify for a Medicare rebate for counselling services:
Make an appointment to see your GP, paediatrician or psychiatrist
Take this brochure with you and ask your GP for a Mental Health Treatment Plan and a referral letter to our service
Contact us to make an appointment.
How do I receive free counselling under Connect To Well-being?
Connect To Well-being is a free counselling service for people experiencing mild to moderate mental health concerns such as anxiety, depression and post-traumatic stress disorder, and who are unable to afford their own private practitioner.   We provide services under this program to people who have an Australian Government Health Care or Pension Card (or a statement from their GP indicating they are in financial difficulty), and fit into one of the following priority groups:
People who are experiencing homelessness
People from non-English speaking culturally and linguistically diverse backgrounds (CALD)
Aboriginal and Torres Strait Islander people
Children 12 years and under with, or at risk of, developing a mental health disorder
People who live in rural and remote RA3 classified areas – ASGS Remoteness Areas 20161 (this includes Macksville, Bowraville and Nambucca Heads)
People directly affected by a declared extreme climatic event or natural disaster (flood, bushfire, drought, earthquake, cyclone). Eligibility under the Extreme Climatic Event stream for people affected by the 2019 – 20 bushfires also includes people whose need for a mental health service was either prompted by, or significantly increased due to their exposure to bushfire.
If eligible you will receive up to 10 counselling sessions, of one hour duration.
To access this service:
Print out this Referral-Form and take it to your GP.
Speak to your GP about your preference for accessing outreach counselling from Lucy Van Sambeek.
Ensure you sign the Consent section on the Referral Form.
Your GP will fill out the form and send it to Connect To Wellbeing along with a Mental Health Treatment Plan or Referral Letter.

Our Policies
Download our Privacy and Confidentiality Policy.
Download our Complaints and Feedback Policy.  Download our Complaints and Feedback Form.
Download our Cancellation Policy.
We work in accordance with the Australian Charter of Healthcare Rights.
Can I talk to you first?
Yes.  Feel free to give me a call to discuss your needs or eligibility on 0417 927 657 or email via our Contact page.
I look forward to seeing you soon in nature.
Lucy