Private Practice
"Lucy Van Sambeek came into our lives in late 2018.  We are a small remote community with high socioeconomic disadvantage and I am one of two General Practitioners serving the community, who had in addition suffered extreme losses with bush fires then floods.  We have a very small pool of psychologists (2-3) in an adjoining town – and more in a small city 1 hour away.  Most have their books full, or were inaccessible due to distance, cost or cultural divide.  Lucy walked in wondering if she could be of help!
Since then she has received above 90% of my mental health referrals.  She has connected with people of all ages including our distressed children, parents, adolescents, middle aged and those much older.  She conducts her speciality in a patient based, environmentally informed, compassionate, safe and constructive manner. She will see people wherever they need to be seen, in a clinic for convenience or immersed in nature.  She has been taking care of people with a myriad of varying mental health, social or circumstantial troubles.  I have not had as many patients return to say how much they have benefited from the therapeutic process as I have had with Lucy.  I know she has an innovative vision and have no doubt she will succeed.  I will miss her and highly recommend her."  – Dr Jayne Schofield (2022)
I have worked as Lucy's Clinical Supervisor over two periods: From 2011 – 2014 when she was a colleague of mine at Relationships Australia NT (RANT) in Darwin, and May 2020 – Present Day after she had moved interstate to engage in Private Practice.  Over both of these time periods, Lucy's has operated from a philosophy of empowerment of clients and communities.  In her Private Practice work, Lucy has taken into account the needs of her clients and tailored her approach to assist her interactions to be as useful as possible for the client.
Over recent years, I have noticed in particular that Lucy, while utilising Narrative approaches and techniques, has taken the time to broaden her therapeutic skills by engaging in specific training, such as working in an environmentally sensitive and sustainable manner.  Lucy has demonstrated a consistent willingness to reflect on her therapeutic work in the Supervision context.  She has also been a significant contributor to a network of practitioners interested in improving their skills in working in Narrative ways. – Barry (2022)
Since getting to know Lucy van Sambeek as her clinical supervisor, I have grown to be impressed by her professionalism, wholistic approach to therapy and depth of compassion. She has the ability not just to be culturally aware but deeply, culturally engaged. Her skills and therapeutic experience extend across culture, gender and age, joining people in their own level of experience and helping them to make their desired shifts toward more positive changes. Throughout her work she incorporates her love and knowledge of assisting people to connect with the healing benefits of nature. In these ways her approach to therapy may be seen as both interactive and interconnected, linking us to ourselves, others and the world of nature. – George (2023)
---
Remote Counselling and Community Development
I am pleased to be able to offer my support for Lucy's work in the development of culturally relevant approaches to the healing of those affected by trauma. Of the many issues affecting the wellbeing of women and children in Indigenous communities, exposure to family and community violence is one that stands out. It has a devastating immediate impact and its insidious developmental effects on victims can last a lifetime – exposure to family and community violence occurs at a higher rate in the NT than in any other Australian jurisdiction, and mainstream services struggle to adequately address the need gain the trust of victims.
Lucy's approach is invaluable in that it represents a blending of contemporary research and knowledge on the impacts of trauma with traditional knowledge about healing.  She has years of experience in working in partnership with Indigenous people and in the promotion of local knowledge.  Her work demonstrates that true, respectful service partnerships between mainstream and Indigenous practitioners are possible and result in better communication and a more ready acceptance by those affected by violence and abuse.  – Howard (2014)
"People have seen the difference we have made in the community.  Women have learnt that domestic violence is not good for them.  They've learnt how to help their young ones and keep them safe.  They tell each other "look after your family".  Women are now getting help from other people when they're feeling unsafe.  Lucy helped young people in school.  Kids have learnt about safe ways of connecting with other relations, speak up for themselves, make good choice for themselves, and go to safe places. 
Lucy is a good teacher.  I learned a lot from attending conferences with Lucy.  We connected with other workers from other communities.  Together, we made a resource for our women and families who are at risk of domestic violence.  We made a video and provided education to our young mums in both communities.  We shared our work at conferences and workshops.   Now that Lucy has left our community, we learnt a lot from our experience, we have been teaching ourselves about how to do things for ourselves and our families.  We have learnt a lot because of a person that respected us as Tiwi people.   Lucy is the one that learnt from me.  Now I want to go out and teach others like mums and families." – Elaine (2017)
"Lucy is a community practitioner from heart to head.  For 3.5 years I had the privilege of collaborating with her as part of our work with families from the Tiwi Islands, NT.  Through case management liaison and joint family work, as well as partnership projects including family healing camps, a community garden and numerous group programs, I had the opportunity to learn from Lucy in varied and intense practice settings.  Her creative flair, realism and sense of hope motivates those around her and she skillfully brings forward narrative and community practice theories into action.  Driven by a deep belief in social transformation and in a community's capacity to heal from within, Lucy is prepared and able to hold the crucial conversations and encourage community ownership.  Organised, efficient and at the same time graciously open to the dynamics of the day, Lucy is an effective therapist, group facilitator and program coordinator.  She has a lens for individual and family needs, as well as broader community issues and works strategically across these levels for greatest positive impact.  With a community vision that finds expression beyond her therapeutic work with remote communities and into various voluntary roles in Darwin; it is clear Lucy is following her calling." – Melinda (2014)
"Lucy has helped people to understand about themselves, how to deal with problems they are having – mum, dad and family."  Lucy has got respect from us, as Tiwi workers working with her, and the people Lucy has done programs with, I'm sure they value her work. Working alongside Lucy made me feel very trustful. Trust is very important to [the kids we work with] and us. Lucy gives us the confidence to deliver the program."  – Cathy (2014)
"I have acted as Clinical Supervisor for Lucy Van Sambeek over the last 4 years (2011 – 2014). Lucy performed a challenging role for Relationships Australia NT during this time, travelling regularly to two remote communities (Tiwi Islands and Yirrkala).  In these communities, she provided counselling for children and families, a role which she carried out with great skill, professionalism and integrity, using her experience and knowledge in Narrative Therapy and Art Therapy.
Lucy also carried out another significant role during this time, mentoring key local women in both communities to provide culturally appropriate support to children and families. This mentoring role was based in Lucy's philosophy of empowerment, and it culminated in the co-production of an innovative resource and training package "Healing Our Children". This package focuses on the impacts of Family and Domestic Violence on children in these communities, and allows community members to access cultural skills in responding to this difficult issue."   –   Barry Sullivan (Manager, Family and Relationships Services, Relationships Australia, 2014)
"Lucy is a helpful and respectful person. [Together] we helped the children from the school and even [people] outside the community, she is like a close relation, like she is a Tiwi person, close to us. When I first met Lucy for this job at Relationships Australia, I said "yes I'd like to work with you".  I was learning, learning, learning.  That was give years ago.  Now I'm holding down a job [because] of what Lucy has taught me. Now I'm thinking what I'm going to do next, for my young Tiwi people, community people." – Patricia (2017)
"Lucy is a very strong advocate for her clients; she shows great passion and commitment in her practice when working with children and their families.  Lucy demonstrates sound knowledge on the impacts of trauma and the effects this has on children's needs and development.  Lucy works collaboratively with parents and families to ensure a child's needs are met, and that the child is given a voice through the therapeutic process.  Lucy's past clients have seen positive change within their dynamic, as well as reunifications and re-engagement with their support groups and peers.  Lucy's trauma-informed, culturally sensitive, inclusive approach in combination with narrative, art and storytelling has been appreciated by families and children and has had a positive impact for those who engage in the therapy process with her." – Lissy (2018)
"Lucy is a terrific Coordinator- she is dynamic, efficient and highly focused – once she has an idea – she rarely lets go (and often in the face of formidable obstacles). She has a wonderful ability to translate ideas into action as evidenced by co-creating Healing Our Children with the community in Tiwi Islands. She embraces ethical and culturally sensitive
approaches; and most importantly – upholds high integrity." – Jonelle (2018)
---
Nature Therapy walks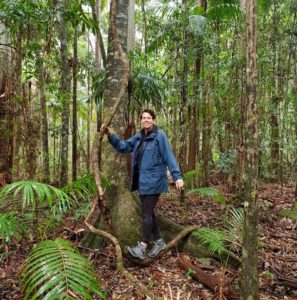 "My nature walk with Lucy was amazing, a truly beautiful morning spent connecting to nature!  Lucy is highly skilled at facilitating many different experiences throughout the walk, which I found incredible!  Lucy delivers thoughtful exposure to nature to help you connect with your senses, to meditate and to ground you, all whilst giving you the space needed to do so!  Imagine sitting in a beautiful bush setting – having tea and snacks after having made a real connection to your surroundings!!!!  Thank you for such a meaningful experience, I'll be back!! -Leanne (Sydney)
"This was an amazing experience. Lucy guided me through a 3 hour walk that was insightful and taught me a lot about myself, the environment and mindfulness.  Highly recommended taking the time to do this." – Lisa J (Melbourne)
"What an amazing and special experience this is.  It was more than I was expecting.  I highly recommend this experience to everyone.  I walked away feeling refreshed but relaxed and closer than ever to nature.  It was a privilege to meet and spend 3 hours with Lucy in the forest.  Thank you Lucy I will always remember this magical morning" – Wendy R (Brisbane)
"Thanks to Lucy's guidance, I achieved a deep sense of connection to the profound beauty of all the little things that make up the web of life.  The grounded calm feeling stayed with me for a long time afterwards. It was also wonderful to meet the other people attracted to this experience." – Jo Kieboom (Darwin)
"The Forest therapy morning spent with Lucy and our small group was such a treat for the senses and for the soul.  It's an experience everyone deserves to give themselves." – Sandy Hamilton (Nambucca Valley)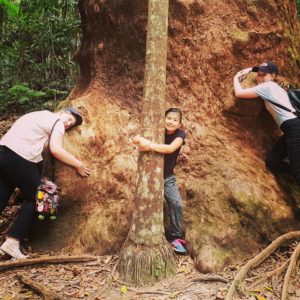 "Lovely to connect with nature with guidance from Lucy.  Life is very busy and it is great to ground ourselves with nature. At the end of a 2 hour journey with Lucy, I felt at peace.  This practice can be used at home in your own garden or numerous other places. I recommend that you give it a try." – Bernice Reid (Nambucca Valley)
"I had so much fun and it helped me feel calm which is unusual for me.  I look forward to seeing you again (Lanna,10).  I now feel more connected with the earth.  It was fun and I wish I had the chance to go again (Lucinda,12).  Today helped me feel connected to nature and left me feeling calm and centered (Madison, 14)."