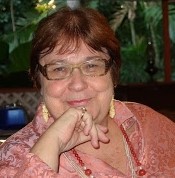 Get your dancing shoes on as we head into Episode 7 of Talk the Walk with Pamela Trotman.
Pamela has been dancing around Reconciliation circles since the 1967 Referendum, granting Aboriginal people the vote and removing the White Australia policy.   Pamela's whole life has been about appreciating the diversity around her, since the days of growing up in Gunnedah and hanging out with the kids in the 'blacks camp'.  Starting out as a young, twenty-something social worker in Redfern, Pamela's career spans 50 years in child protection, mental health and policy working in a variety of non-government organisations in NSW and the Northern Territory.  She has authored and presented on the areas of Aboriginal affairs and trauma, both nationally and internationally.
Come join us on the dance floor as Pamela reflects on five decades of the most memorable steps, lessons from mentors and learnings for life.
In this episode of 'Talk the Walk', we explore:
Pamela's early days working in Redfern at a time of great political activism
How our white privilege has us acting and behaving in ways that are racist
How Pamela came to view her own culture of English aristocracy through the eyes of Aboriginal people to become an effective social worker
Reconciliation being a journey of white recognising their internalised dominance and black recognising their internalised oppression
Memories of Pamela's childhood growing up in a segregated town and being one of few who ventured into the blacks camp
The influence of family values and class privilege on Pamela's life and work
How Aboriginal people are treated as second class workers in our organisations
The normalisation and legitimisation of internalised dominance and internalised oppression
Pamela's time with the AASW working on the Indigenous Portfolio and setting up the first Indigenous committee
The Social work profession as a reflection of society whose heart has hardened in recent times
reflections on the NT Emergency Intervention
how social workers can reflect on their own internalised dominance
the principles of peace and non-violence that have shaped Pamela's life and work
Pamela's biggest challenge and what it means to be a human
Why Pamela loves living and working in Darwin
The healing powers of the Reconciliation dances, a metaphor for living one's life and work
The Dance Creation Story and its influence on Pamela's social work practice
An inspiring story of the impact of Pamela's work discovered 45 years later
The role of mirror neurons in empathy and understanding the woundedness of the other
Acting with integrity
To listen to this episode simply click on the Play button below.
Subscribe to episodes of 'Talk the Walk' by email via our Home Page.  We hope to have 'Talk the Walk' listed on popular podcatchers like iTunes very soon.
Don't forget, if you or someone you know would make a great interview on 'Talk the Walk', send us an email from the Contact Page.
Things to follow up after the episode
' The Locals, Identity, Place and Belonging in Australia and Beyond' by Robert Garbutt
'Heterosexism:  Addressing internalized dominance' by Robin DiAngelo
About Paulo Freire  
'Transcending Internalised Dominance' by Pamela Trotman in 'Reconciliation and Australian Social Work' edited by Dr Christine Fejo-King and Jan Poona
About Mahatma Ghandi
'The healing powers of the reconciliation dances' by Pamela Trotman in Reconciliation and Aboriginal Health, edited by Dr Christine Fejo-King, Dr Aleeta Fejo and Jan Poona
'Mirror Mirror, our brains are hard-wired for empathy' by Babette Rothschild
'Trauma and Recovery' by Judith Herman
Podcast: Play in new window | Download
Subscribe: RSS