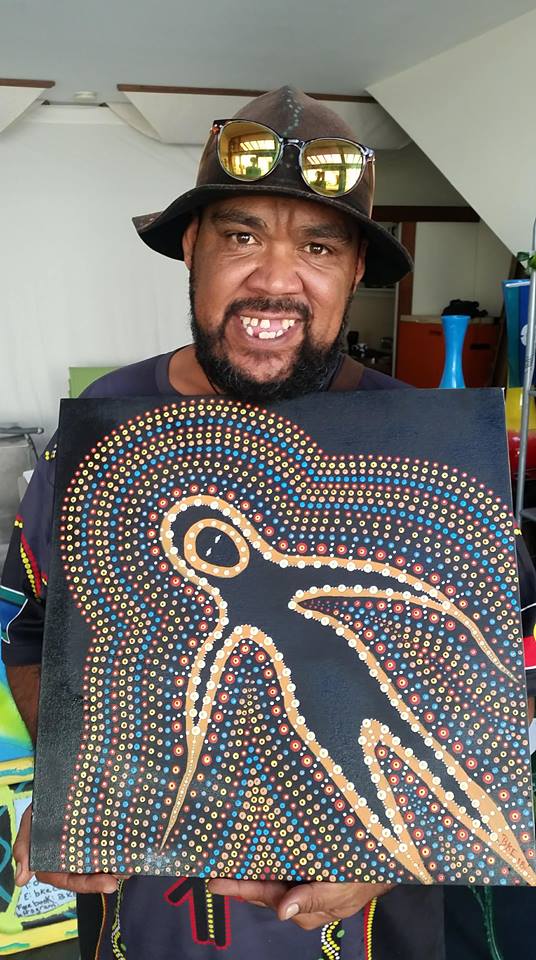 This week on 'Talk the Walk' I sit down with Bernard Kelly-Edwards in the middle of his tiny art shop in the thriving alternative community of Bellingen.   Bernard is surrounded by paintings, expressions of who he is, a local Gumbayngirr man, and symbols of the deep spiritual connection to country that he shares with others.
Bernard began his own journey of self-discovery attending a cultural program called Red Dust Healing and now reaches out to other individuals and groups to support Closing the Gap in cultural understanding.   It is his passion for promoting mental health amongst Indigenous young people using the healing capacity of Miimga (Mother Earth) that is the focus of our conversation today.
His business, BKE Consultancy is a unique mix of multi-media platforms of art, photography, short film, poetry and storytelling.  Bernard brings all these talents, along with skills of deep listening and knowledge of Aboriginal Lore, recognising sight and the feeling of cultural sites, passed down to him.
A few times in this conversation, Bernard speaks of the spirit being, the one with no mouth.  He is describing the image in the painting, he is seen holding here.
This is what we explore in Episode 22 of 'Talk the Walk':
Bernard's approach to 'counselling' using the tools he has found most effective from his own experience and gifts from Mother Earth
What deep listening really looks and feels like, for our own and others' health and wellbeing
Easy practices you can try at home to develop your spiritual connection with Mother Earth and your self
The elements of life such as water, animals and wind that make communication and connection possible
Lessons for how we are living our lives, from the Earth's perspective
Awareness – Balance – and Integration; Bernard's 3 step strategy for healing of the planet beginning at home
How Bernard uses the concept of perceptual positions to assist individuals to take responsibility in their own healing process
Making deadly choices and being in the present moment, using the model of awareness, balance and integration
How Bernard works with the triggering emotions of individual's past traumatic experiences to change belief systems and move people forward
Bernard's sparkling moment – a good news story of healing
Bernard's painting and it's interpretation of his own spiritual form
To listen to this episode simply click on the Play button below or listen via the Stitcher App for iOS, Android, Nook and iPad.


You can also subscribe to podcast and blog updates via email from the Menu on the Home Page.
Don't forget, if you or someone you know would make a great interview on 'Talk the Walk', send us an email from the Contact Page.
We apologise for some of the human-made background noise at the beginning of this interview.   That's what happens when you are talking with real people on the job in the heart of their community.   Sometimes you just have to go with it.   Enjoy!
Things to follow up after the episode:
Connect with Bernard K Edwards on Facebook
Connect with BKE Consultancy on Facebook
Contact Bernard by email at bkeconsultancy79(at)hotmail(dot)com
Podcast: Play in new window | Download
Subscribe: RSS