As much as it hurts to write this because my sadness is raw and alive and being lived in this very moment, I want everyone to know that when you are in the midst of grief, nature has your back.
Back in March my mother had a fall and broke her hip. Upon admission to hospital it was discovered she had sepsis, life threatening blood poisoning. This kills a lot of people! I hopped on a plane and flew 'home' to see her; it was touch and go for a while. Over the next two weeks, the surgery was on, then off, then on again, then mum wasn't well enough to operate on. At one stage she was going to have to learn to live with a broken hip, because her heart might not survive an operation.
Meanwhile a few days after mum's accident, my dad fell and was discovered passed out many hours later in the hot sun. He suffered first degree burns to his legs and face from lying on a metal ramp. Severely dehydrated, he was also lucky to be alive.
Was this really happening? Two parents in hospital. It was as if time had slowed down so much that I had trouble breathing. I needed space. I needed air. I needed time to process this.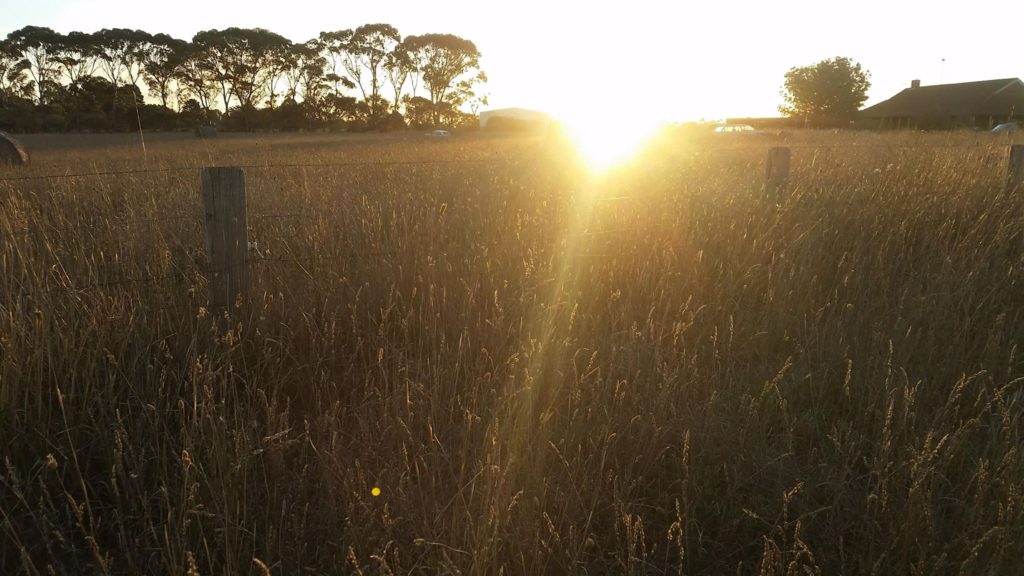 I am grateful I had the opportunity to just walk and ride and run outside on my brothers farm (I don't usually run because my knees aren't up to it, but I did it anyway because I knew it wouldn't hurt any more than my heart). I climbed the old gum tree I played in as a child, reminiscing about fun imaginary times and appreciating opportunities laid out for my future there. As I gazed towards the setting sun over long, dry grass blowing in the wind, my tears fell on the brown, cracked earth, momentarily breaking the drought. I lay on the grass, staring at aging eucalypts in the paddock, which had lost hope and turned an unsightly brown. They were doing it tough too.
Eventually another surgery opportunity presented itself to my mum in Melbourne. And dad agreed to skin grafts. Can you believe they both travelled to the big city on the same day? Weird. Coincidence.
Mum didn't quite make the painful three hour journey in the back of the ambulance, having to stop momentarily at another hospital to administer more pain medication and stabilise her. After numerous set backs including infections and low blood pressure, she finally had her operation two weeks after the fall. I had made peace with the fact that she might not survive it. It was a nervous moment. I was beside dad's bed when his blood pressure dropped so low that his heart monitor alarm went off. My own heart skipped a beat; life on a knife edge.
A lot of time was spent bedside. Or travelling to hospital. Or negotiating the public transport between two hospitals in a city that doesn't know how to go slow. I sought nature again, and space, and air. All I saw were tall buildings of concrete crowding out the warm sun and other depressed-looking city folk stuck on the mouse's wheel. The only trees I saw were in a beautiful park, from nine stories up out a hospital window. I was desperate to get there to feel the earth under my feet, to run amongst the autumn leaves, to breathe freely, but I never did. The weather had turned so bitterly cold, dreary and wetter than my tears.
I was angry too. Hospitals were not conducive to healing or recovery. People got sicker here not better (it happened to my mum). I couldn't stop thinking about the research that shows patients who have access to nature outside their window recover more quickly from surgery and illness. Some of the beds I've seen, don't even have natural light!
Eventually I had to fly home. I contracted a chest cold and I didn't want to infect anybody.
Seven weeks later and my parents are still in hospital. There have been infections and unexplainable turns. Multiple tests, scans, xrays. MRI's and ECG's. Staphylococcus contraction from surgery. Wounds that won't stop leaking. Patience running thin. Surgery to re-do unsuccessful grafts. Going off food. Back on food. Ups. Downs.
But the tipping point came this week, when I learned that the surgeons had also removed a lump from my dad's ear which turned out to be Melanoma, an aggressive form of cancer.
There is nothing worse than watching those you love in unbearable pain. Now there would be more to come. I never dreamed that this would be dad's way of exiting the world. And mum is still not out of the woods yet (pardon the pun).
Upon hearing this latest news, I took off on my regular walk up the country road where I live. I didn't get far before my eyes became too clouded to see where I was going. I plonked myself down on the roadside in the bushes, overlooking the valley. I listened to the breeze as it bent young eucalypts. I watched the ants moving about their daily business. I gazed at fluffy white clouds moving across the brilliant blue sky. And then I heard something, a gentle pounding, of little feet. I didn't move. Then right on cue I noticed a wallaby meandering towards my direction. It stopped behind a tree. Then slowly it moved towards the fence five metres in front of me, crouching down to move through the wire, and pop up on the other side. I told myself if I sat still, perhaps it would hop right on past me, allowing me to appreciate this close up encounter. The wallaby started up the slight embankment towards me. Before I had struck eye contact, he had caught a glimpse of me and with tremendous leg strength, had dramatically propelled himself into reverse, the ground reverberating, bouncing off the rise and back up the fence line. I didn't even have time to react. Even my breath had stopped dead still.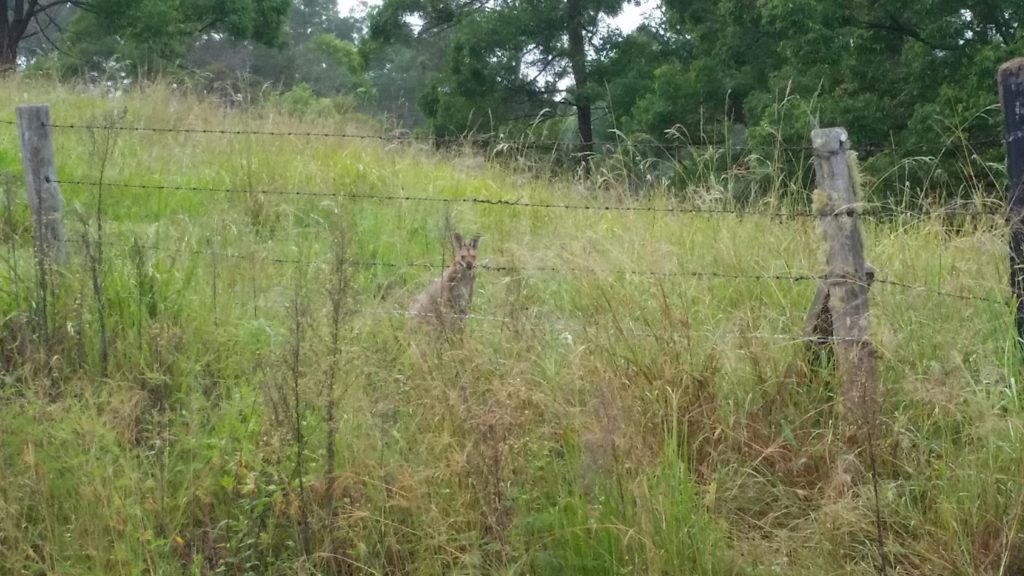 I watched him as he sat at a safe distance plucking up the courage to look back at the strange phenomenon he had just encountered. It must have been a shocking discovery to find me sitting there. I couldn't help but feel sad that he wasn't brave enough to continue on past me, as if I was invisible. Or just a part of nature too. Part of his web of life.
Yes, I know how you feel young wallaby. You're shocked. You're rattled. The natural rhythm of life has been upset momentarily.
But I notice something else. You bounced back. Sure, it was in another unexpected direction. But you also had the courage to look back and ponder what it was that knocked you off your feet. To take stock before you carry on. To appreciate this moment of being alive in nature.
You and I have a lot in common.
POSTNOTE: My dear mum passed away on June 9, 2018. Forever remembered.