Many of you will be familiar with my passion for keeping children safe in their first three years of life through the Healing Our Children project, to improve their chances of growing into strong and healthy adults! It is one thing to protect babies from violence to prevent trauma to the brain, but it is quite another to add in nurturing and nourishing activities to promote brain growth!
Author of 'Your Brain on Nature", Dr Alan Logan says "Your connection to nature established early in life to your experiences can actually influence your life course's wellbeing". He argues that young children who are disconnected from nature experience a variety of health impacts from poor gut health and low immunity to compromised mental health.
Louv and Charles have been looking at a growing body of evidence across the world that suggests children are now spending much less time in nature-based outdoor activity and this is having a detrimental effect on their development. Louv has gone so far as to use the term 'nature deficit disorder' to describe this problem.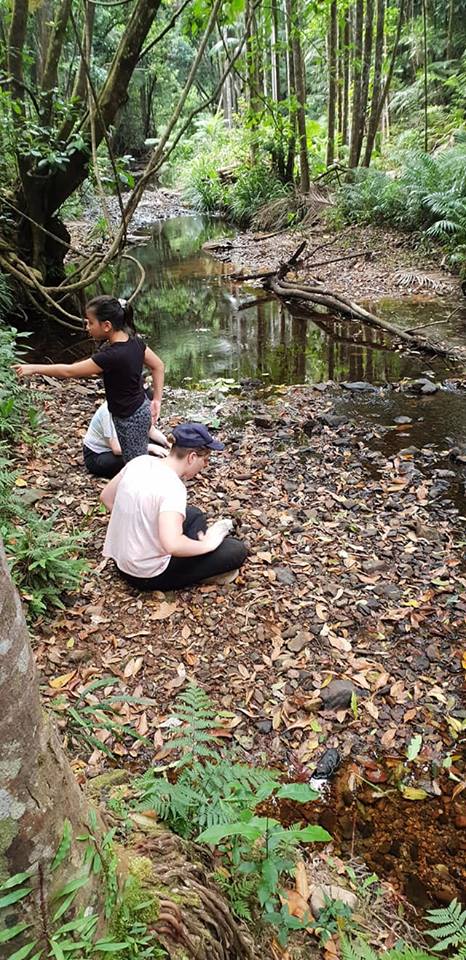 While some research findings have limitations, here are some of the trends worth noting.
Between the decades, 1980's to 2000's, children's lives have become increasingly structured and media oriented, leaving less time for independent play of any kind, including unstructured play in nature. Free play is going down, screen time is going up.
Visits to parks, national forests and other public land is in decline and are a possible indicator of the frequency of children's exposure to the natural world.
There are fewer opportunities for children to engage in the natural world, with parents containing their children to more restrictive spaces, the move towards play indoors with supervision rather than unsupervised in parks, playgrounds or streets, a dramatic decline in children's independent mobility, parents exerting greater control over children's play and limitations put on children's adventurous play.
Nature may encourage and support children's physical activity and help them maintain a healthy weight. The number of obese children is rising, moving into their teens they are much less physically active. Some studies have linked children's health to green spaces in the neighbourhood.
Children have less knowledge about plants, animals and their environment today than their parents. One possibility is that biodiversity has decreased where children live; or children have little or no meaningful direct experience with local biodiversity.
Evidence of decreased mobility, reduced availability to natural areas, and restrictions placed by parents on children's activities in natural areas, suggests fewer opportunities to engage in the natural world.
So what does the research say about the benefits of contact with nature for children and young people?
There are a number of studies that demonstrate children's play outdoors reduces the impact of stressful life events and has long-term benefits for physical, social, emotional and cognitive development. Children who experienced high levels of contact with nature report higher global self-worth and higher cognitive function increasing their ability to learn and concentrate, decreasing anxiety and increasing self-esteem.
In Australia, adolescents have talked about their desire for safe places to break away from everyday life, to restore energy levels and to make meaning from the ups and downs of life. Between 25 and 31% of young people in Years 9 to 12 said that nature was their favourite place to find peace, quiet and freedom, feel calm, where they can think about things or where they can be themselves. The study found nature plays an important role in maintaining stable mental health for adolescents, who live in a modern world where societal changes and pressures are rising at a rapid rate.
Primary school children's access to nature in Melbourne primary schools has shown a number of social and mental health benefits including building resilience, improved attitudes towards school and relationships with peers and adults, greater calmness and less disruptive behaviour, growing sense of freedom and creativity, and enhanced self-confidence.
We know how good it is. So how can we get our kids off their devices and plugging into nature? Here are three nature connection invitations, I recently tried with some children aged 10-14 on a Guided Nature and Forest Therapy walk. They absolutely loved them!
Wish Upon a Rock
Find a rocky creek or waterway. Invite the children to create a cairn. For each rock they are able to stack and balance, they can make a wish, a hope or dream. How many wishes can they balance? Give the child time to reflect on their experience.
Befriend a Tree.
Invite your child to find a tree they connect with. Invite them to get up close and use their sense of touch to explore. "What do you notice when you hold a leaf or two? What do you hear when you move the leaves or run a stick against the bark? What part of the tree has a smell? Do you see different things when you get up close or sit further away?" After a while, invite them to sit by themselves next to the tree and just spend some quiet time there. "Perhaps a name for your tree might come to you. I wonder what stories this tree might tell you while sitting there in quiet still awareness?"
Paint a Rock
Using paint pens and a flat rock, write a message for the forest or for other beings in the forest to discover. Hide your rocks in the forest. Take a photo of them and post its location on the #NSWRocks Facebook or Instagram community page (or search your state for your local rock group). You can join in the hunt for other kids rocks too.
Of course, it is much easier for children to feel comfortable in nature, if they have been exposed at an early age. Taking your baby for a daily walk outside is giving them a great start to life. You will be laying down the foundations of a strong and healthy brain. Oh, and bringing down some of your own stress levels too, no doubt. Here's to happy child's play in nature!
References:
ABC News (2016) 'Gut health, mental wellbeing and immunity linked to outdoor play'
Charles C and Louv, R. (2009) Children's Nature Deficit: What We Know – and Don't Know.
Selhub E and Logan A. (2012) Your Brain on Nature
Townsend M and Weerasuriya R. (2010). Beyond Blue to Green: The benefits of contact with nature for mental health and well-being. Beyond Blue Limited: Melbourne, Australia.