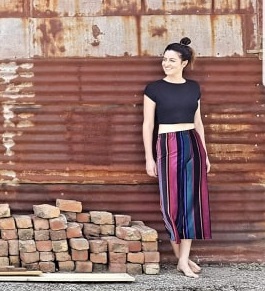 How do you combine a love of travel with social work and human rights advocacy?   Just ask Anna McCracken.  Anna has been roaming around remote Australia in her 4 wheel drive since 2013, listening to the stories of First Nations Australians and shaping the roll-out of the NDIS.
With an undergraduate degree in Social Work and a Masters in Human Rights Law, Anna's nomadic lifestyle allows her to travel the country working in partnership with communities and as a link to business and Government around resourcing community led solutions to social challenges.   Anna's current passion project is exploring the role immersive technology can play in storytelling and language preservation in remote communities.
As a facilitator of conversation and an excavator of the 'real story', this interview with Anna lives up to expectations.  We get to know the person behind the passion, and what it takes to roll up the swag and hit the road with no agenda but to do what social workers do best – listen deeply.
In episode 29 of 'Talk the Walk', we explore:
Anna's first observations as a social work graduate about social policy and its impact in regional and remote Australia
What motivated Anna to undertake undertake further study in Human Rights Law and the learnings both professional and personal which led to becoming an Advocate for disability rights
the unique skills social workers offer as a conduit between clients and service providers to give them a voice
Reflections on Aboriginal people's experience of the NDIS and its influence in shaping the scheme
Why Western Australian communities have embraced immersive technologies
The potential for virtual reality to be used with children who have development, social and behavioural challenges
Pondering the ethical implications of VR
the value of having difficult conversations about White Privilege
Anna's motivations and influences inspired by a great Aboriginal activist and a grandfather who had all the time in the world
The questions around who she is as a social worker practitioner that keeps Anna awake at night
To listen, simply click on the Play button below or listen via the Stitcher App for iOS, Android, Nook and iPad.


You can subscribe to future podcast episodes from our Subscription page.
Don't forget, if you or someone you know would make a great interview on 'Talk the Walk', send us an email from the Contact Page.
Things to follow up after the episode:
Follow Anna McCracken on Instagram
Connect with Anna McCracken on LinkedIn
Anna McCracken's favourite podcast to listen to while roaming around is On Being with Krista Trippett.   Anna's favourite episodes are interviews with David Whyte, America Ferrera and John Paul Lederach.
Podcast: Play in new window | Download
Subscribe: RSS