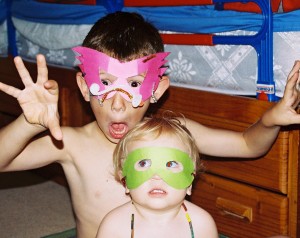 In 2012 I was lucky enough to attend the Art Therapy Conference in Bali. Here I was exposed to the use of masks in therapy from a Gestalt Art Therapy perspective.   Masks have been worn for performance, entertainment, disguise, concealment and protection. They have been around since ancient times and have been used in ceremony, storytelling and dramatic enactment. Working in pairs, we were invited to explore our inner selves and begin to project this image onto large lifesize headwear, only to have our partner complete the transformative artwork based on their interpretation of our selves. Masked up, these projections of unconscious were transformed into dance, movement and story to music in groups. It was a completely nervewracking but invigorating and freeing experience. I began to think if only I could bring this same sense of freedom and transformation to the children I worked with who lived with the effects of trauma in their lives back home!
This objective of the gestalt approach to using masks in therapy is to 'liberate' a person by making contact with the inner (or unconscious) part of themselves. Masks can be used as a diagnostic tool, an object of transformation or as a facilitation of dialogue and communication. As a non-Aboriginal woman working with Aboriginal children who are often difficult to engage in conversation about the trauma in their lives, I was more interested in the latter. One of the biggest problems I encountered in my work with children was engaging them and building their trust. Unlike adults, children don't necessarily walk into the counselling room with a problem or issue they want to work on. It is usually concerned family members or teachers or police or welfare workers that say there is a problem. So how do you get children to open up when they don't know why they're even seeing you? Masks not only presented as a fun and creative way of engaging Aboriginal kids, but it could actually lead them to opening up about their lives too!
Working from a narrative perspective, I could see the potential for masks to provide a safe place to talk about problems without feeling exposed or shamed. The problem could be projected from where the child perceived it was sitting (inside them) onto the mask (outside of them) in a process of externalisation thereby separating the problem from the person. They could literally hide behind and communicate through their mask in a non-direct way by putting it on their face, rather than having to talk directly to me in the first person. I was excited about this idea and came back to Australia seeking to explore ways of using this creative method of bringing healing to the lives of children I was working with.
After a few school terms of using this approach with both boys and girls of all ages, I ended up with a counselling room wall full of masks – sad ones, angry ones, lonely ones, crazy ones, and I even enabled the quietest boy to name his shame for the first time in his life through a mask. New children were always curious about the wall of faces and this was enough of an invitation to want to make one too. Mask making ended up being one of the most powerful way of opening a door to the child's heart and mind.
To get a sense of how I incorporated narrative ideas into mask making, download my notes here.
Using Masks to Incorporate Narrative and Art Therapy ideas by Lucy.
Perhaps you might take these beginning ideas and develop them further? I would love to hear how it goes. Or if you have other ways you use masks in your healing work with children, please use this space to share what works.
This method would work just as well with Aboriginal women and men who have difficulty opening up about their experiences.