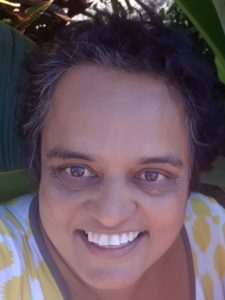 You don't have to search too far to listen to the stories of despair, destruction or trauma in Aboriginal communities.  These are widely played out in our media.  However if we listen with intention much deeper, we will find something richer and more telling.  The absent but implicit in these stories, are signs of strength, hope and resilience.
Listening in this way is a practice that goes to the heart of Sudha Coutinho's clinical and community development work.   Sudha trained as an occupational therapist and was drawn to narrative therapy as a way of engaging her clients in the fields of mental health, suicide prevention and training.
I came across one of Sudha's more recent projects when I was invited to respond to some stories collected as part of the Telling Stories project in Kulumbaru.  Sudha says she has "always been interested in stories- those we tell about ourselves and those others tell about us – and the power in these stories to influence both the storyteller and the listener."
Sudha also tells a really good story herself.  With over 20 years working in the Northern Territory, alongside and with Indigenous Australians, this episode is one bloody good yarn.
In episode 15 of Talk the Walk, we explore:
How Sudha came to be working in the Kimberley, discovering herself and her way in occupational therapy from a narrative perspective
Why moving away from the 'expert model' to share our own story is essential for relationship building
What a genuine cultural immersion looks and feels like
Moving from a medicalised mental health/psychiatry model of clinical practice to a focus on social and emotional wellbeing
Indigenous concepts of wellbeing which incorporate spiritual and cultural aspects of self
Practice as an art, not just a science

How 'Telling Stories' came to be; the intent and thinking behind the project and the narrative methodology behind the approach

The digital archives of strength, hope and resilience featuring stories of Kalumburu community; and how these stories were gathered
The role and power of outsider witness practices; and the effect this had re-authoring the Kalumburu community story
How you can watch the stories from Kalumburu and what to include in a response back to the community
Sudha's biggest challenges commonly shared amongst community development projects and how to think creatively to overcome them
Evaluating a narrative project
A story about the effect the Kalumburu stories project has had on Sudha's personal life; and what Sudah loves about narrative practice
How listening to difficult stories can actually be transforming in positive ways for practitioners and not always a cause for vicarious trauma or burnout
An invitation for you to join the conversation about how you listen to story within your own practice.  Please write a comment below or join the conversation on Facebook.
To listen to this episode simply click on the Play button below or listen via the Stitcher App for iOS, Android, Nook and iPad.


You can also subscribe to podcast and blog updates via email from the Menu on the Home Page.
Don't forget, if you or someone you know would make a great interview on 'Talk the Walk', send us an email from the Contact Page.
Things to follow up after the episode
Telling Our Stories in Ways that Make us Stronger by Barbara Wingard and Jane Lester
Watch a video and send a message back to the Kalumburu community and the storyteller at the Telling Story project on vimeo
Sudha's blog about the Telling Story project on ABC Open
Contact Sudha Coutinho at sudhacoutinho(at)gmail(dot)com
Contact the Telling Story project at tellingstoryproject(at)gmail(dot)com
Podcast: Play in new window | Download
Subscribe: RSS