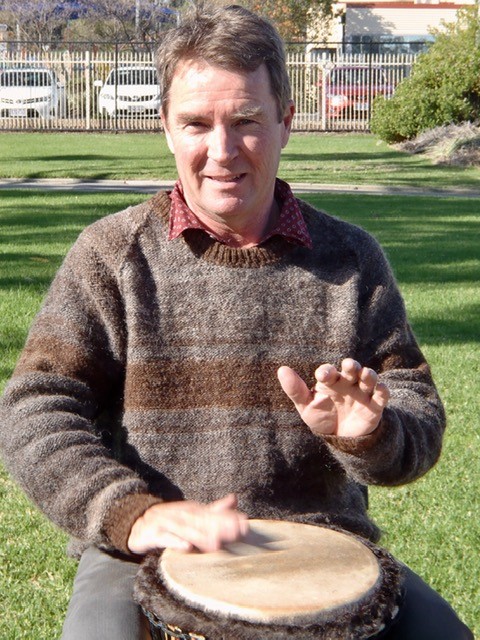 My guest on the podcast this week is the brains and the hands behind the therapeutic program, Drumbeat at the Holyoake Institute.  Simon Faulkner went on to set up his own business, further developing his Rhythm2Recovery model (R2R) which has now made its way into the UK, USA and Germany.
R2R combines experiential rhythmic music with cognitive reflection, as a therapeutic intervention suitable for one-to-one counselling, groupwork and community development. Thousands of practitioners across Australia have been trained to use drumming to connect with their clients experiencing a range of life challenges. Simon brings many years' experience working cross culturally, delivering training programs and therapeutic interventions to Aboriginal and Torres Strait Islander communities as well as First Nations communities in the USA and Canada.
In this conversation, we discover how Simon, who does not identify as a musician, came to appreciate the drum as a therapeutic tool for connection.
In episode 31, we explore:
Why drumming has been such an effective therapeutic tool for working with Aboriginal and Torres Strait Islander people
Simon's discoveries working with First Nations peoples in Canada and the USA, and how this has influenced the development of the Rhythm2Recovery model
How the drum if used correctly can promote a safe therapeutic relationship
An overview of the research behind rhythmic therapeutic interventions
The ways drumming is being used therapeutically in Indigenous communities around Australia and how it is being received
What inspired Simon to develop this methodology, and the beliefs and values behind his intentions for the work
The biggest struggles Simon faces in working cross culturally and the skills and knowledge he has used to overcome them
What really makes Simon's heart sing in his community and your chance to get involved
To listen, simply click on the Play button below or listen via the Stitcher App for iOS, Android, Nook and iPad.
You can subscribe to future podcast episodes from our Subscription page. Don't forget, if you or someone you know would make a great interview on 'Talk the Walk', send us an email from the Contact Page.
Things to follow up after the episode:
Rhythm2Recovery – access to training, resources, evidence and fact sheets.
Drum Circle Facilitator Training.
Performing Arts in Prisons, Intellect Books.
The Righteous Mind: Why Good People are Divided by Politics and Religion (2012) by John Haight.
Contact Simon Faulkner.
Podcast: Play in new window | Download
Subscribe: RSS