"The Life of Tree"

"Tree is living a peaceful life in the bush until a wild storm comes along and damages his environment. His friend, Jack is worried that Tree won't recover and be able to play with him again. When Jack also lives through a wild storm in his home, he comes to realise just how strong they both really are. Jack has strong cultural roots, just like Tree that brings hope and healing to his whole family."
Lucy Van Sambeek and Christine Burarrwanga are excited to release their first children's therapeutic picture book. Together, they set out to create a culturally-safe way for Aboriginal children to have a voice about their experience of domestic and family violence.
What's inside 'The Life of Tree'?

"The Life of Tree" is a fictional story that takes children on a metaphorical journey about the difficult times in life like watching family violence. Incorporating metaphorical narratives with traditional cultural imagery from Arnhemland, this 47 page picture book invites Aboriginal children into a safe place to express what is too hard to say, celebrate their strengths and receive the help they need to heal. Here, you can take a Sneak Peak of three double page spreads from the story or watch this short video of Christine sharing the story with her young son in Yolŋu matha.
At the end of the book, the author shares the theoretical and methodological approach underpinning the creation of the story. This has shaped the explanatory notes on 'How to Use This Book' for all levels of engagement.   The 'Quick Yarn' section features example questions to explore the story with a child, if you have limited time.  While the 'Extending Therapeutic Yarns' section is for therapeutic practitioners who wish to go deeper in their work with children.  
Who is this Book for?
'The Life of Tree' is for anyone who cares for, lives with or works with Aboriginal children who have experienced trauma such as domestic and family violence.  You may be an Aboriginal or non-Aboriginal social worker, psychologist, counsellor, case worker, domestic violence support worker, teacher, foster carer or family member.
'The Life of Tree' can be read to all children who are experiencing grief or loss from many different 'storms of life' related to trauma, abuse and neglect.  It is particularly suited to children aged 4-10 years.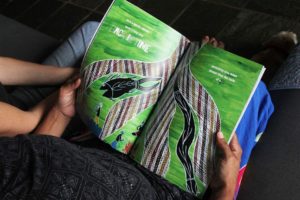 How will this book help children?
Using this book with children, may have a number of therapeutic benefits including:
building a relationship of openness and trust with the child
helping children understand that the problems of their lives sit outside of themselves (externalisation)
helping children express what may be too difficult or impossible for them to put into words
increasing children's awareness of the special skills, abilities, knowledge, values and beliefs they have in surviving the 'storms' or difficulties of life
discovering children's cultural knowledge and family history to enhance resilience and recovery
ensuring children have the protection and support they need after experiencing trauma such as domestic and family violence, abuse or neglect.
What Others are Saying About this Book
"The illustrations are lovely and meaningful, and I look forward to sharing it with my niece and nephew when I visit them in the UK during September. It is a very important book. I continue to value it and have also shared it with the staff in my office. It is also available for people to pick up and read whilst they're waiting in reception." – Rosie Batty, Australian of the Year 2015; CEO, 'Never Alone' Luke Batty Foundation

"We ordered a few copies of your book for FAST, which we have given to several of our Yolngu staff to take back to their communities to use, and they have been loving it! They have mostly been using it in parent groups, quite simply just reading the story and discussing storms and how they impact and then how they can support each other, and then reading/reflecting again over later weeks…. I think the way that our Yolngu workers have been able to pick up the book and run with it (with very minimal direction or support from us) really shows just what an effective resource it is, so well done!" – Jasmin Orozco, Trainer – Families and Schools Together, Darwin, NT.

"I'm very impressed. It's a moving, powerful book, and the illustrations are beautiful. Really good to see how connections that extend "deeper than the roots in the ground" can heal. Excellent work!" – Erik van Keulen, 'a dilettante reader who appreciates good books', Qld.

"Last week I was working in Amata…I shared the story and showed a copy of the book with several agency staff and some community members. They all saw the strength of the story for the children and recognised the child in all of the adults. I explained some of the uses of the book based on the suggestions at the end of the story, encouraging the adult to think through the way they have learnt to prepare for situations, how they have been affected at the time and since a situation, and what skills can support a family loss or change using the story about TREE and Jack's realizations." – Rosey Vaher, Relationships Australia SA working in partnership with Cops For Kids, a charity donating books to communities in the APY Lands.
How to Order
The cost per book is $25 plus GST. Download the order form below then email the completed form to lucy@metaphoricallyspeaking(dot)com(dot)au
If you require an Invoice in order to complete payment, please send your request to this email address.
About the Author and Illustrator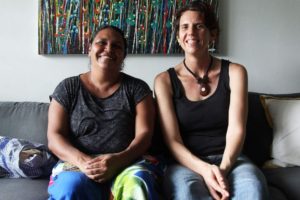 Lucy Van Sambeek has been practising social work in remote communities of Australia's Top End for 10 years. Lucy has co-developed other domestic violence resources with Aboriginal colleagues and presented these at the FRSA National Conference 2012, Child Trauma Forum hosted by the NT Children's Commissioner and the SNAICC Conference 2013. Lucy will also be presenting at the SNAICC Conference in Canberra in September 2017.
Christine Burarrwanga is a Yolŋu woman from Yirrkala in NE Arnhemland. Christine has been painting since her early 20's after learning from her grandmother, mother and other family. Christine's priorities are to be a strong leader and role model for her children by helping others through story, art and connection.
For a longer Author and Illustrator bio click here.
For a Q&A with the author on what inspired her to write the book, click here.
'Giving Children a Voice' Crowdfunding Campaign
As a Children's Counsellor in remote communities, Lucy knows too well about the lack of culturally-safe resources and support available to children who have witnessed family violence. Since writing 'The Life of Tree', Lucy has been determined to see that support workers in domestic violence shelters across Australia have access to this book to support their conversations with children.
Thank you to all those amazing people who contributed to our crowdfunding campaign. We raised enough money to send 100 free books out to shelters in remote communities of the NT, WA, SA, NSW and Queensland. We are stoked and humbled by your generosity!
Subscribe
Stay in touch with the work of …Metaphorically Speaking. Be sure to subscribe to our Blog from the Home Page or register for our Newsletter.