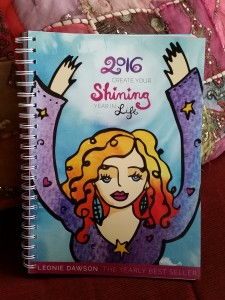 And so it is with trepidation and determination that I sat down in January and planned out my year ahead.   But I didn't want to do it just any old way.  It had to be what Sark would call a wild succulent process – one that would make me want to follow through on the goals I set.  So I ordered myself a gorgeous diary and journal to create myself a shining year.  During the mapping process, I came to appreciate what a unique position I am in.  I currently hold down two jobs – the first as a Project Worker has been in the making for many years through my experience working on the Tiwi Islands – the other, a new environment counselling children and families in a mainly mainstream setting.   If you have ever held down two intensive part time jobs that demand your energy and your passion in completely different ways, then you'll know what a challenging task it is to change hats mid week.
Of course all these responsibilities has meant that the work of Metaphorically Speaking as a private practice has been put on hold for now.  Well sort of.  You see I've set myself another goal this year too.  To finally self publish a children's book that's been in the making for the last few years.   This dream grew out of my work as a children's counsellor on the Tiwi Islands and NE Arnhemland.   I have noticed that primary school aged Aboriginal boys had real difficulty talking about domestic violence in their families and community.  Often shame was so great that they were silenced or too traumatised to speak about their experience.   Gender and cultural barriers also provided extra challenges.  Much of my work focused on using non verbal methods of communication such as drawing, clay or drumming to help boys express themselves.   I also came to appreciate the power of metaphors to help children talk about their lives in safe ways through groupwork on family healing bush camps using the Tree of Life methodology.   The Elders enthusiastically took up narrative practice ideas that drew on storytelling traditions focusing on strengths, hope and resilience.  Seeing how well these ideas worked in community has inspired me to use similar metaphors to reach out to children, who are silenced by their experience of violence.  My goal in writing this book is for counsellors, therapists and even mums and dads to have a way of giving children a voice to their experience by lifting the veil of shame and self blame.   I also believe the book values the strengths of culture in keeping children safe and strong.  I feel privileged to be working with Christine Burrawunga in making this book a reality, with Christine turning her amazing artistic talents into the role of illustrator.  As is so much a part of my practice, this project will be a two way learning experience and genuine partnership.   I look forward to working together with Christine over the next few weeks to begin dreaming and scheming the images to accompany the text.  This is a journey neither of us have been on before.
2016 is also an exciting time, as I near closer to starting our very first support group on the Tiwi Islands for pregnant women or women with young children who are living with or at risk of trauma from violence.   This project is a long time in the making, and has come about through funding made available through the Indigenous Advancement Strategy to Relationships Australia.   Last year, my focus rested on training local women in Wurrumiyanga to be group facilitators and peer mentors to participants using the talking tool called It Takes A Forest to Raise a Tree.  This resource is something I have developed alongside Elders in the community beginning in 2010, after they expressed worries about their grandchildren and the difficulty of connecting with their parents, they described as the lost generation.  Finally, the tool will be out there hitting the ground where it is most needed.
Meanwhile in 2016 I will also be starting some new work in Child Inclusive Practice in my counselling role at Anglicare Resolve.  This requires new learning and new approaches for working with children whose parents are separated, as well as getting my head around the family law system, how it operates and how it impacts on families and children.
So there's lots of work ahead.  It's daunting.  It's exciting.  It's gonna be a shining year.
For more information about my work on the Tiwi Islands, you can contact me at Relationships Australia NT.  To access my culturally safe counselling services for children and families in Darwin, contact Anglicare NT Resolve.  To get a copy of my children's picture book, stay tuned.