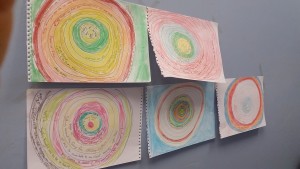 The Rings of Growth is an art activity included in the first session of the Healing Our Children group-work program with women on the Tiwi Islands.  In this session, the women are introduced to the metaphor of a tree as a way of reflecting on and talking about their own lives.
In our training with Tiwi workers we used the Life of a Tree video to show how each ring of the tree represents one year of growth.  These rings can reveal years of hardship (such as lack of water), years of rapid growth (usually during our wet season) and other unforeseen events like insect damage, fire or even crowding out by other sun-loving trees.   Although these rings may be invisible to us, the scars from these tough times are always there.   The Rings of growth is a metaphor that can be used to think about the long term impacts of domestic and family violence on children.  We cannot see inside a child, therefore we cannot assume they haven't been affected.  It can also be used to explore the influence that positive early childhood experiences have on children's long term growth and development.  This is the purpose through which we invite Tiwi women to document their own Rings of Growth and share hopes they have for their own children's future.
This activity invites the women to draw the inside of a tree as if it was cut across the middle and each of the rings of life were exposed.  The women are asked to think about what they were doing when they were a child and the memories they have about what other people did that made them feel good inside, safe and loved.  These things, however small, are the things that helped them grow up and be strong.  For each ring of the tree they have drawn, the women write or draw a memory of something that made them feel loved, safe and comfortable for each year of their childhood.  This can include special events, favourite activities, special people in their lives, significant words said to them, important lessons they learned  or stories they were told by Elders and family members.  The women need at least 30 minutes on this activity to draw, colour, chat and share stories with each other.  After there has been sufficient time to document significant memories and knowledge, the women are invited to explore what their drawing might tell them about hopes they have for the future of their children.
Women whose childhood experiences were largely pleasant, memorable and positive, usually have similar hopes and intentions for their children's lives.   For those that are struggling in their parenting, it can be a positive way of getting back in touch with hopes that have been lost along the way.   Those women with an unpleasant memory may use the opportunity to explore what positive message or learning they have taken from their experience.  They may reflect on how they want things to be different or better for their children than what they had experienced.  Remembering and recommitting to these intentions within the support of a group, can move women to action in positive ways with their children.
In my experience, women have enjoyed making connections between their early childhood experiences with their own development into adulthood.  Recently, one woman traced back her strong interest in natural remedies to her memory of being thrown in a big copper pot by her grandmother and being treated with bush medicine for chicken pox.   Another first learnt to sew in school and is now actively involved in a women's cooperative doing screen printing on fabric and making a variety of articles as her work for the dole activity.  Yet another remembers her dad teaching her the rituals of the Kulama ceremony and is now instrumental in keeping this tradition alive with her grandchildren.
Metaphors have the power to be transforming and insightful.  The learnings that women have taken away from this very simple exercise have been delightfully surprising.  The potential is unlimited for adaptation for different client groups and contexts of work.