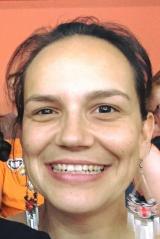 What's it like to walk in two worlds, as a non-Indigenous social worker in a remote Aboriginal community, fresh out of university?
While that might seem daunting, Emily Hapea saw the opportunity for growth, developing authentic relationships and honouring the truth of First Nations Australians.
Emily lives and works in Cairns in northern Queensland.   In this episode of 'Talk the Walk', Emily shares the journey that has shaped her understanding of trauma-informed practice influenced by experiences of institutional racism and a denial of Australia's black history.
Like many social workers who are expected to wave a magic wand, Emily prefers to draw on deeply engrained values of equality, compassion for others and a sense of justice, to create a way of working that sustains her.
In this refreshing conversation, we explore:
The beginnings of Emily's social justice journey from childhood; the influences and myths that have shaped her ethics and values in life and work
Why Emily believes that it is impossible to be born in Australia and avoid being racist
Seeing intergenerational trauma as a truth, not a theory
Emily's framework for social work practice
Beginnings and sparkling moments from working with vulnerable Aboriginal women seeking to get Child Protection out of their life, working within Noel Pearson's Welfare Reform agenda for Cape York, and an innovative accommodation and early intervention support service for new mums
The biggest learnings of being thrown in the deep end, fresh out of university into Cape York communities
What can help when starting work in a new cultural context and the importance of developing relationships with cultural mentors
Differences between social work in Indigenous and mainstream contexts
The knowledge and skills Emily developed that she wouldn't have, if she hadn't worked with Indigenous communities
Advice for social workers new to the field
The sickness of denial about Australia's true history and owning our racism, contrasted with Aboriginal people's resilence and passion
What Emily would do if she had a magic wand
To listen to this episode simply click on the Play button below or listen via the Stitcher App for iOS, Android, Nook and iPad.


You can also subscribe to podcast and blog updates via email from the Menu on the Home Page.
Don't forget, if you or someone you know would make a great interview on 'Talk the Walk', send us an email from the Contact Page.
Things to follow up after the episode
'Trauma Trails' by Professor Judy Atkinson
'Why weren't we told' by Henry Reynolds
Podcast: Play in new window | Download