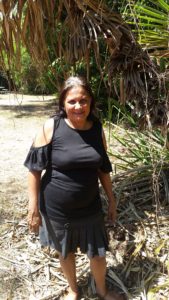 While I am gearing up to undertake the first Forest Therapy* course offered on Australian soil down in the Yarra Ranges this week, it seems the interest in ecotherapeutic approaches to health and wellbeing is growing rapidly.  While the Western world is just catching up with the scientific evidence to prove nature can heal us from the social ills of overconsumption and environmental degradation, Indigenous cultures across the world have always known of the healing power of nature.   For many years I've heard Elders from the Tiwi Islands prescribe 'going out bush' as the best treatment for mental health problems and young people who are going off the rails, rather than traditional talk therapies.  Leonie Hunter of the Tiwi islands is my guest on 'Talk the Walk' this week.   With knowledge and wisdom passed down to her from family and a passion for understanding mental health in the 21st century, Leonie unpacks what 'nature as healer' means to the oldest culture in the world.
In this week's episode, we explore:
the history of how Tiwi people have been using nature in healing ways
what parts of nature are used in traditional healing methods
the power of listening to the external and internal
healing physical ailments and the emotional self with bush medicine
what excites Leonie most about using bush therapy
how Leonie came to learn cultural healing knowledge and skills in nature
Leonie's encounter with respected Kakadu elder Bill Neidjie
Key messages from nature for our lives today

The effects of not looking after the environment and the impact of stress on Aboriginal people's health

the benefits of nature for children and Leonie's dream of developing healing camps for youth
Leonie's personal experience of the healing power of nature
Nature as a helper in the grieving process
Adopting traditional healing methods in the health system
Tips for non-Indigenous social workers who want to help Aboriginal clients access traditional healing in their recovery
This interview was conducted in nature.  We don't apologise for that, but the sound quality is affected by the wind in some areas (sorry!)
To listen to this episode simply click on the Play button below or listen via the Stitcher App for iOS, Android, Nook and iPad.


You can also subscribe to podcast and blog updates via email from the Menu on the Home Page.
Don't forget, if you or someone you know would make a great interview on 'Talk the Walk', send us an email from the Contact Page.
Things to follow up after the episode
*Forest Therapy is a term coined by the Association of Nature and Forest Therapy
Bill Neidjie – Author of 'Story about Feeling', 'Gagudju Man' and 'Old Man's Story'
Podcast: Play in new window | Download