Outdoors or On-Line
Our counselling approach is not what you would normally find in other settings.   We are unashamedly different because we understand that not everyone wants to sit in a strange room with a person they have just met, to share their precious stories.
If you would prefer to sit in a park under a tree, in the comfort of your own backyard, or do a 'walk and talk' session in your safe nature place, then our approach may be a refreshing and welcome change.  There is also a growing body of research showing that simply being in nature has a positive effect on your physical, social, emotional and mental wellbeing.
You can read more about How We Work using our integrative therapeutic approach incorporating eco-therapy, narrative therapy and art therapy.  Lucy is an accredited member of the Australian Association of Social Workers, The Association of Nature and Forest Therapy Guides and Programs and Nature and Wellbeing Australia.  She has a current Working With Children Check (No. WWC1564166E).

Who will benefit from this therapeutic approach?
This approach may fit for you, if you are:
Seeking relief from chronic stress
Healing from the effects of trauma including domestic or family violence
Living with the effects of 'depression', 'anxiety' or (insert your own name for a mental health concern)
Suffering from physical pain, recovering from illness or surgery or adjusting to life with a disability
Healing from grief or loss
Experiencing a life transition or difficulties in relationships
Worried about the future of our earth or environmental concerns
Wary of traditional talk therapies in an office setting
Prefer spaciousness and room to breathe, rather than containment of four walls
Seeking therapeutic support in a relaxing, natural setting where there is no pressure to eye-ball the counsellor
Open to developing a stronger connection to the earth and using nature as co-therapist
Open to using art materials to explore stories, thoughts and feelings where communication is tricky
Open to exploring multi-layered stories of strength, resilience and resistance as your preferred picture of the future
Who do you work with?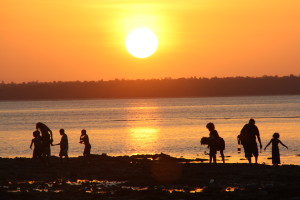 Most of my experience has been working with children, young people and women.  I have also worked with men and am willing to negotiate a framework of working that will feel comfortable and safe for both of us.
For more than a decade, I have worked therapeutically incorporating nature in various forms.  Ranging from culturally-safe counselling under trees; to group work using nature metaphors, art and storytelling; to family healing bush camps in remote Australia.
What about safety and privacy?
Working therapeutically outdoors can present different challenges such as bad weather, maintaining confidentiality where members of the public may be walking through, and health and safety concerns in the natural environment.  We take extra care to assess for hazards, minimize risks and to protect your privacy as much as possible.  Sometimes a change in the weather can turn into a learning experience or opportunity for working through 'edges'.  Nature sometimes works that way.  However, there is also an option to reschedule if this would be more comfortable for you.
Where does counselling happen?
We offer outreach counselling services in the Nambucca Valley and Coffs Coast region and can use a variety of natural settings to meet.  You can nominate your preferred safe place in nature or we can suggest a suitable location near you.  We also offer sessions in the comfort and safety of your own backyard.  Alternatively, we offer on-line counselling so you can dial in from your preferred meeting place at a time that suits you.  If we meet on-line, we will explore ways you can engage in nature-connection practice and expressive art activities in between sessions.
How much does it cost?
Fees are $100 for a one hour session, whether face-to-face or online.
Fees are payable on the same day of service.  We accept cash or we can invoice you for payment by direct deposit or credit card.  Credit card payment via Paypal attracts a 2.6% fee.
The first counselling session will include a discussion about estimated financial costs, over an agreed time frame.
Our Policies
Download our Privacy and Confidentiality Policy.
Download our Complaints and Feedback Policy.  Download our Complaints and Feedback Form.
Download our Cancellation Policy.
How do I get help?
Feel free to give me a call to discuss your needs on 0417 927 657 or email via our Contact page.  Then if you think I will be a good fit for working with you, I will send you a Client Intake form and Consent form to gather some information, along with an Information Sheet for New Clients.  Return the completed forms to me and I will be in touch with you, within 24 hours to arrange an appointment.
If I think you need the support of another professional, I can make a referral for you.
I look forward to seeing you soon in nature.
Lucy