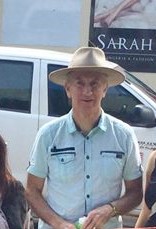 Welcome back to 'Talk the Walk' in 2018.  Supervision goes under the microscope in this podcast episode with my guest, Barry Sullivan.  Like many social workers, Barry came to the profession after more than 20 years in teaching.  Arriving in Darwin in 1998, Barry started out in school counselling, before joining Relationships Australia where he has been ever since.
In episode 19, Barry demonstrates that you don't necessarily need decades of direct experience working with Aboriginal people to offer a good reflective space for supervision. Barry's narrative approach offers a respectful way for supervisees to reflect on their practice, using their own values, beliefs and principles.
Barry recently completed a Masters in Narrative Therapy and Community Work with a focus on 'justice doing' and its relationship to clinical supervision.  Barry has supported a number of counselling staff in individual and group supervision including those working in remote Aboriginal communities in the Top End.  The gentle and humble approach Barry takes in his work comes across in this warm conversation.
In this episode, we explore:
What Barry has discovered is the biggest ethical dilemmas and the most common issues discussed in supervision by social workers in remote communities
The approach Barry uses in supervision to support practitioners in working through ethical issues, looking through a cultural lens
The history of Barry's interest in justice and his research into justice-doing in supervision
assisting supervisees to reflect on their own white privilege
how conversations about justice-doing in the supervision room has influenced practitioners and their work with Aboriginal clients
why Barry is attracted to the narrative approach to supervision and the principles behind this approach
How Barry got started in the narrative approach to social work and counselling practice
The childhood mentor that influenced Barry's justice-doing in social work and how he intends to hold onto this principle in his future work
We apologise for the audio variability in this recording, but hopefully it does not distract from your listening pleasure.  Enjoy!
To listen to this episode simply click on the Play button below or listen via the Stitcher App for iOS, Android, Nook and iPad.


You can also subscribe to podcast and blog updates via email from the Menu on the Home Page.
Don't forget, if you or someone you know would make a great interview on 'Talk the Walk', send us an email from the Contact Page.
Things to follow up after the episode
Download Barry's paper for the Masters of Narrative Therapy on 'justice doing' in supervision here
WRITTEN ESSAY NARRATIVE PRACTICE AND RESEARCH SYNTHESIS (1)
Writings by Vikki Reynolds
Contact Barry Sullivan at work on barry(at)ra-nt(dot)org(dot)au
or privately on barrysullivan96(at)yahoo(dot)com
Podcast: Play in new window | Download