"Dadirri recognises the deep spring that is inside us.  We call on it and it calls to us.  This is the gift that Australia is thirsting for.  It is something like what you call contemplation.  Many Australians understand that Aboriginal people have a special respect for Nature.  The identity we have with the land is sacred and unique."
These are the words of Miriam-Rose Ungurmurr first uttered in 1998 during the Pope's visit to Australia and echoing in my mind on recent occasions.   Last weekend I had an opportunity to experience first hand, how it is we can tune into our true selves through the process of Dadirri. With other like-minded people, we gathered under the big shady tree overlooking the community oval at Daly River.  Miriam-Rose was there, as this is her home.  Also holding us in this space, was Judy Atkinson, another wise Indigenous soul, known for her trauma-informed work with communities.   My interest in attending this gathering is mostly about how I, as a non-Indigenous woman can walk alongside my Indigenous brothers and sisters on their healing journeys.  I have a strong sense of 'we're in this together'.
Miriam was quick to point out that dadirri is not just an Aboriginal thing.  It's just that White fellas have not been given an opportunity to practice it.  There is certainly a lot being written in the Western world at the moment on mindfulness meditation and this is probably the closest thing there is to understanding the practice of dadirri.  Judy says mindful practice is "being put up as the mantra as the response to trauma".  Dadirri goes deeper.  It goes to the heart of what it means to be connected spiritually to the country, being in nature and listening to the rhythm of the land.  While I won't ever fully understand Aboriginal people's unique sense of belonging, Miriam gave us some clues as to how this comes to be.  She asks us to sit in quiet still awareness and contemplate 'Who are you' and 'how do you know who you are?'  This requires further and deeper reflection.  Who are you with?  Who are you connected to?  Who are your ancestors?  Where did your ancestors journey from to allow you to be in this place at this time?  This is something every human being can come to know if you find the stories and listen intentionally.  It is like finding and listening with purpose to the spring that is bubbling within each of us, a source of energy, of answers to life's questions.  I couldn't help but imagine that for someone who has experienced the effects of intergenerational trauma, this could be quite confronting.  Consider adult children who were removed from their families and don't know who their family is, their language or their country.  This spring may be full of tears –  a well too deep to access.  For me in my white skin, going within, is much less threatening.  For I have had a privileged, safe and nurturing upbringing.
I sometimes feel overwhelmed with the level of despair, self destruction and pain amongst Aboriginal families and communities.  The science of epigenetics tells us that trauma is now altering the genetic material of children being born today.  And so even if the trauma did stop now (which it isn't – families are still having their children removed from them at greater rates) how does one begin to even start the process of healing?  I saw this despair on the face of an Aboriginal woman in our gathering whose heart was crying out for help for the fifth generation of children being sexually abused in her community.  Can healing begin when the trauma is still happening?
Judy's reflection advocated that becoming mindful and knowing who we truly are, allows us to have a clearer vision on how we can change the systems of injustice.  Judy's notion of 'community of care' is like the tree we sit under that is connected underground through root systems to other trees.  These roots, although unseen are continuously connected through strong kinship systems and culture.  Not even a bushfire can destroy 40,000 years of these connections.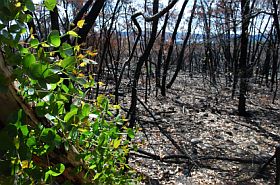 Miriam went on to offer a reflection on the Pope's words.
 "We are like the tree standing in the middle of a bushfire sweeping through the timber.  The leaves are scorched and the tough bark is scarred and burnt, but inside the tree the sap is still flowing and under the ground the roots are still strong.  Like that tree we have endured the flames and we still have the power to be re-born."
There was a sense of hope restored in the group.  Even though bushfire after devastating bushfire sweeps through the land, scorching the trees, this is always followed by refreshing wet season rains, new leaves, new growth.  Miriam says it's a natural thing for trees to drop their leaves and the growth always comes back.  Her people always cry in excitement when the first rains arrive.  They cry for the people that have passed away in the previous year and their tears wash the bad things away.  The plants, the trees, the land is cleansed.  A new season is starting.  Hope returns.
So here were Miriam's final words to us.  'The person you are now, is it really who you are?  Is this your true spirit doing what you're doing now?  Is there something in you, that is really you?  If so, use this gift to help others.  Believe in yourself.  There is only one of you.  You are special.  'There are always dreams dreaming us' says Judy.
The practice of dadirri helps me to tune in to my purpose in being here.  I am not the firefighter.  I am the ranger burning off and establishing fire breaks.  With more rangers in the world working from a harm prevention framework, we can minimise the number of devastating bushfires, knowing that nature will always be there to heal, regenerate and restore.