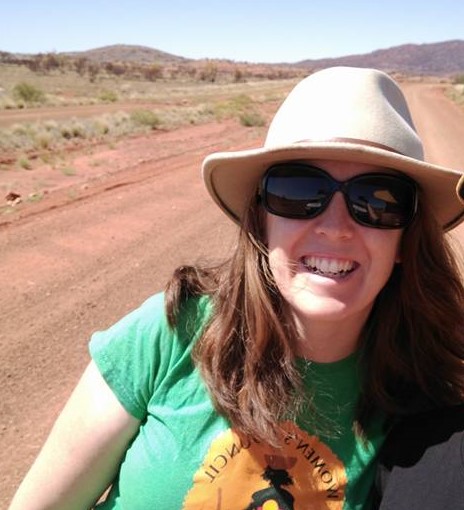 There's something about the blue sky, the sparse landscape and the weaving of cultural stories that drew Louise O'Connor to Australia's red centre.  Far from her homeland of Ireland and not satisfied with the big city lights of Melbourne, Louise O'Connor packed up her meagre belongings and head to Alice Springs.  She found herself working with the Ngaanyatjarra Pitjantatjara Yankunytjatjara Women's Council as a Domestic and Family Violence Case Worker and hasn't looked back.  Since arriving, Louise has been drawn to narrative therapy as an approach for working respectfully with Aboriginal women.  She now supports a team of case workers implementing the Council's new domestic and family violence prevention framework developed in consultation with the Australian Childhood Foundation and the large group of women they support in the NPY lands.  Louise brought with her a long history of case work with refugees and asylum seekers, youth and people at risk of homelessness or in crisis, both in Australia and Ireland.  Louise's passion for sharing stories and helping others tell theirs shines through in my conversation this week on 'Talk the Walk'.
In episode 18, we explore:
Why Louise uplifted her life in Melbourne to venture into Central Australia and how she got started in community work
A brief history of the NPY Women's Council and its work
A typical day in the life of a domestic and family violence caseworker in the NPY lands
How the Women's Council moved away from a justice focus to a violence prevention framework using a trauma-informed, community development, narrative therapeutic approach to practice
What Louise loves about her job and her journey into narrative therapy
How Aboriginal women are developing their own tools of narrative practice for use in their community
The everyday challenges of remote work and what Louise does to look after herself
The 'strong stories board' project – one of Louise' sparkling moments
Louises biggest learnings and awesome words of advice for community development and social workers thinking of working with remote Aboriginal communities
To listen to this episode simply click on the Play button below or listen via the Stitcher App for iOS, Android, Nook and iPad.


You can also subscribe to podcast and blog updates via email from the Menu on the Home Page.
Don't forget, if you or someone you know would make a great interview on 'Talk the Walk', send us an email from the Contact Page.
Things to follow up after the episode
The NPY Women's Council domestic and family violence service
Download the Family violence Prevention Framework
Episode 15 – 'Telling the Stories of Our Lives' with Sudha Coutinho
Contact Louise on  lou_oconnor33(at)hotmail(dot)com
Podcast: Play in new window | Download