What would it be like if we responded to perceived 'negative' feelings in the same way we responded to 'perceived' positive feelings?  You know the feelings I'm talking about; the ones that make our body feel uncomfortable.  Anger, sadness, grief, guilt, pain, hurt, shame, jealousy and the like.   Growing up we learn to push these feelings away, ignore them, get over them, put a lid on them or deny them.  In fact, society expects us to.  And if we can't, then we are told to go to a counsellor to learn how to, because there must be something wrong with us.
What if instead we were to normalise these feelings, rather than to see them as abnormal or bad?  After all, it's only the behaviour that accompanies these feelings that may cause a problem, not the feeling itself.   Somewhere along the line society has labelled emotions 'negative' and 'positive'.  The so named 'negative' ones we want to avoid.  The 'positive' ones we crave more of.  We should to be happy all the time, right?
What if we were instead to ride through the wave of perceived 'negative' emotion, like a piece of driftwood that rides the ocean currents, knowing eventually the rough and tumble will be over and it will wash up on the shore, ready to dry out and fulfil its potential in the sun?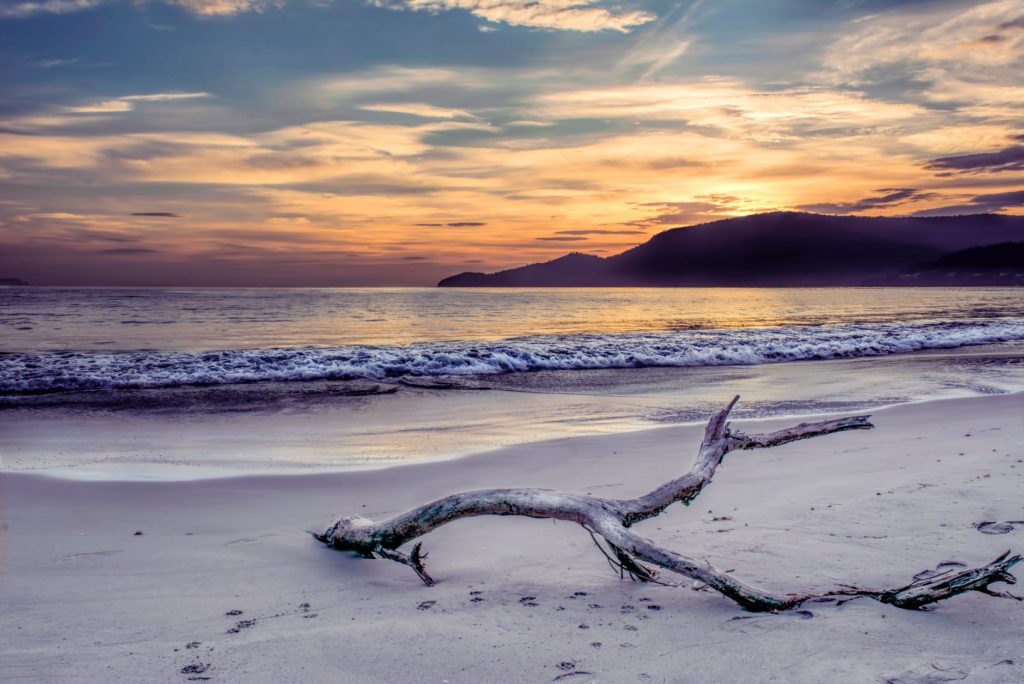 Nature has much to teach us about living with our emotions, just as nature is a stimulus for experiencing emotion.  Nature shares with us her awesome presence and we experience feelings of awe and wonder staring at a sky filled with millions of stars.  We dwell in delight and joy at the sound of birdsong or a fleeting visit from a timid animal in the forest.  We are wrapped up in happiness and excitement as we discover unexplored, beautiful places that take our breath away.   Our bodies respond to these sensory experiences in pleasurable ways.  We are totally present in the here and now, relishing in the feeling of the moment.
The skill of being mindful in nature can be applied to all our emotions, not just the ones that give us sensations of comfort.  Nature provides some clues about this.  A fire sweeping through the bush is horrifying and scary.  Trees do not enjoy having their leaves stripped bare or bark scarred.  But they stand there, remaining steadfast.  They ride it out.  They slow down their breathing and conserve their energy.  Trees have learnt how to protect themselves from past experience by growing thick bark.  Eventually, the smoke clears, the rains come, and seeds burst forth in regrowth.
What if we were to sit with our emotion in the moment and bring the same kind of awareness to our experience, as we do with 'positive' emotions?  To sit and dwell in the pit of crappiness, to bring awareness to the tightness in our stomach, to be accepting of our vulnerability, to notice the change in sensations as the feeling eventually passes.
What if we were to treat our emotions like a friend to get to know rather than an enemy to run away from.  With curiosity, get to know its habits, its likes, its dislikes.  If you can recognise the signs of its arrival, you can be prepared, and find a place to sit and ride it out (preferably in nature which has immediate calming and relaxation effects).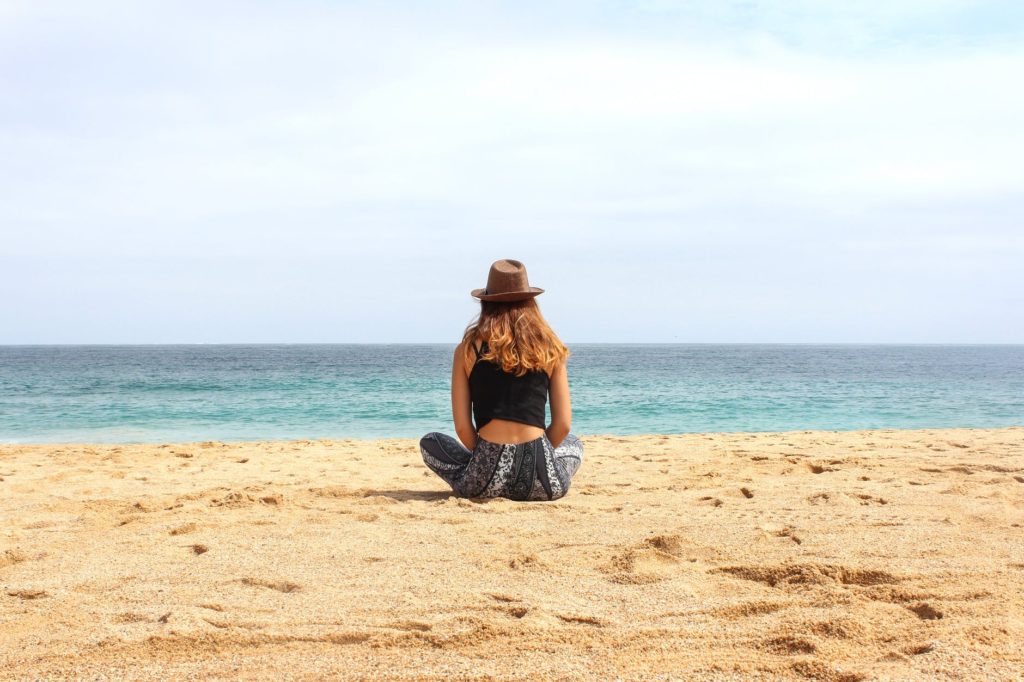 Indigenous peoples do not push their grief away or hide it or try to move through it quickly.  They spend many days or weeks, sometimes months expressing their sorrow after the passing of loved ones.  They feel it shifting through their bodies as they dance and sing to the natural rhythms of the earth.
Experiencing and sitting with the full gamut of emotions is what it means to be human.
For those that have experienced trauma, the experience of sitting with emotions can be much more difficult.  Our response, driven by the brain's need to protect us, might shut our body down completely so we don't have to feel at all, or help us get ready to fight or run away from a perceived threat.  This is where nature's healing powers can really do its work.  When uncomfortable or painful feelings come to the fore, nature provides the distraction needed to calm our over-reactive limbic system.  Taking some time to sit in green space with the sun on your face, the breeze drifting over your skin or the grass beneath your feet, is the first step to retraining your brain through a mindfulness practice.  Building up the muscles in your brain to bring awareness to your felt sense, slowly makes space for the more uncomfortable feelings to be explored in small steps over time.  Sometimes a support person or counsellor is needed to guide this process.
Every feeling we have is normal.  They are part of this journey called life.  They come and go.  Even those that are a result of traumatic experience can be healed, through a practice of mindfulness in nature.
Be gentle on yourself.  Sit with your emotions.  All of them.  Breathe through them.  Notice their passing.
Nature is brave enough to do it.  Humans are nature, so we can too.