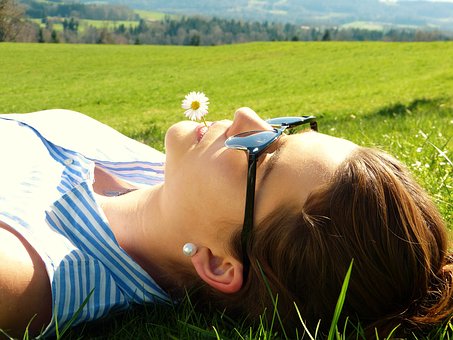 I am wondering about the power of nature imagery as a tool for relaxation.  Not everyone has access to beautiful landscapes or nature at their back door.  Access to the outdoors may be limited by mobility or circumstances.  Some of us live in cities where green space is lacking.  Recent studies show that prisoners watching nature documentaries are less aggressive and violent, so we know that one doesn't need to actually be outside to receive the healing benefits of nature.
I am thinking about a refugee whom I support on Nauru in indefinite detention, who is unable to get outside due to chronic pain and continuing trauma.  He recalls fond memories of being a lifeguard on a beach before the detention centre was closed and all services were withdrawn from the island.  I have been trying to work with him to visualise that special beach in his mind.  This is challenging given the circumstances he finds himself, in chronic pain and confined to his room.
I think there is real value in present moment situations of chronic stress, depression or anxiety, to call upon nature as our friend to induce a state of relaxation.   To bring a sense of calm to the amygdala, activated by the sympathetic nervous system.  To reduce the negative effects of rumination on mood and wellbeing.  To open up a space to breathe while the unpleasant feelings pass.
We know that the brain cannot tell the difference between sitting in real nature or imagining a landscape in our mind.  The same physiological and psychological benefits of stress reduction are experienced in both of these situations.  So just by thinking about your favourite safe place in nature is enough to produce the required relaxation response.
Here are some simple instructions for a Tree Visualisation meditation, I gave recently at a Nature Therapy talk I did with cancer patients.  Another option is to have a basket of nature objects such as shells, stones, pine cones, leaves, feathers, gum nuts and other interesting objects.  Just holding one of these treasures in your hands with eyes closed, eliciting all the senses to engage with it, can bring forth a range of mindful responses.  Both of these activities elicit strong memories for people, of places they have been before, of experiences they have had and of traditions or rituals held precious.  I watch their faces as anxiety or fear is replaced by instant comfort and joy.
As quickly as the stress response is triggered, the brain has the power to bring a state of relaxation and calm to us.  Nature and the imagination are perfect partners to try this out for yourself!