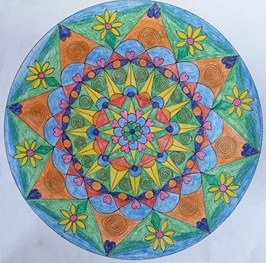 'Therapy on the go' is about sharing quick insights into healing practices that anyone, any age, any gender, can do anywhere, even if you are time poor. Whether you are wanting to reclaim a sense of groundedness in your life, achieve some insight into your self or simply relax through meditation, creating a mandala can do all this and more. You could doodle one in your coffee break or create some space on a weekend to really go for it!
A quick history.  The Sanskrit word for mandala is 'circle' or 'completion'. Eastern cultures have honoured the circle over thousands of years for its inherent beauty, wholeness and sacredness, with different interpretations put on its meaning for spiritual life. Carl Jung introduced mandalas to the Western World after noticing his patients spontaneously made circle drawings in therapy. He believed that if you drew mandalas or dreamed about them, it signalled a movement toward new self knowledge. Art therapist Cathy Malchiodi says mandalas "give us an experience of wholeness amid the chaos of every day life, making the "sacred circle" one of the very coolest art therapy interventions for both soothing the soul and meeting oneself."
Mandalas are everywhere. They literally exist in the cells of my body, around my garden, even the universe. Take a look around your environment; notice the patterns and be inspired.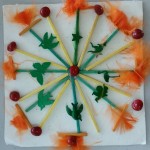 Quick reflection. Creating a mandala is a personal journey, it's not about the final artwork. So take your time, enjoy it. Your mandala represents your inner emotions and thoughts at a particular point in time, through the shapes, colours and materials you use. Don't think about it too much. Go with your gut instincts and see where your body takes you.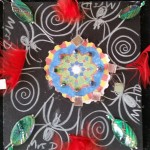 Quick instructions. Gather your choice of materials. If drawing is your preferred medium, try pencils or pastels on large paper. If you like collage, almost any crafty materials or articles from nature work. Things like coloured or patterned paper, buttons, pipecleaners, feathers, fabric, ribbons, lace, wool, match and popsicle sticks, crushed eggs shells, , jigsaw pieces, bottle caps, leaves, dry grasses, small shells – the possibilities are endless. It could be as simple as a black pen and white paper or a stick and sand.
Start by drawing a large circle. If you like use a compass or trace around a plate. Then in the centre of the large circle, draw a very small circle or glue a centre piece. Work outwards from there, using the 'mandala dance method'. What's that? You'll have to watch the video. Basically, you draw a line (or glue items) radiating out from your centre at 12 o'clock, 6 oclock, 3 and 9 o'clock. Then you can divide each of these sections in half again, so you have eight lines. Keep adding lines, patterns or craft bits to your mandala until you fill the whole circle. Try experimenting next time with black paper or a canvas board.
Quick inspiration. An artist friend of mine, Alison Dowell recently ran a mandala making workshop for International Womens Day.  Watch her quick instructions including her very cool 'mandala dance' here.
Here is a great picture summary, courtesy of one of my favourite websites where there is lots of inspiration.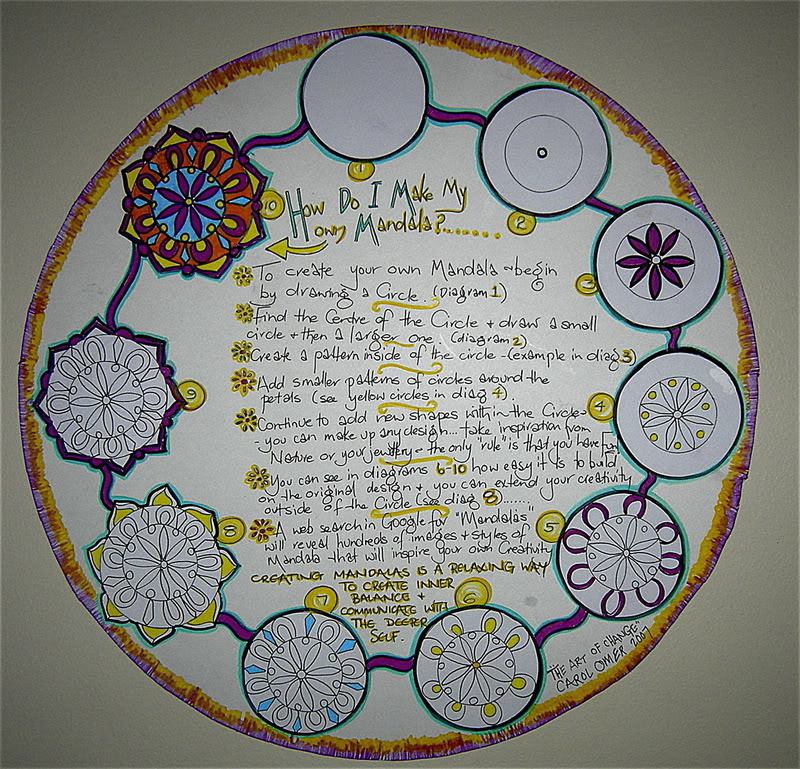 Use your mandala as a centrepoint for meditation, to decorate a wall or turn it into a coaster. Above all, enjoy the experience! You'll never know what you learn about yourself, if you don't try therapy on the go.