As a counsellor who has worked in remote communities, I have seen the lack of resources available to children fleeing violence in remote communities.   For many years, children in domestic violence shelters were not recognised as clients needing support and assistance in their own right, with much of this being offered to their mothers or caregivers.  Thankfully things are changing, slowly.  We know that children are impacted by hearing, seeing and experiencing it too!
With less than a week to go in our crowdfunding campaign, we are encouraged and amazed by the response by people all over Australia, to help us achieve our dream of giving 'Aboriginal Kids A Voice' on their experience of violence or trauma.
As I write this, we have raised over $1700.  This will allow us to send 68 copies of our therapeutic children's picture book to domestic violence shelters in the NT, WA and Queensland.
We have shared our story with Lyrella Cochrane at ABC Radio Darwin and Emelia Turzon at ABC on line.  Any day now, a story will be published in the Crinkling News, the national newspaper for young people.  Be sure to look out for it.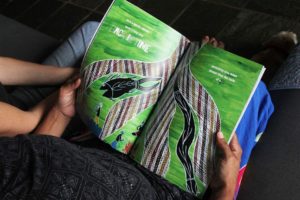 As we have already blown away our initial target, we have now expanded our goal to support children who arrive at shelters in South Australia and NSW too.  We've also been asked to consider translating 'The Life of Tree' into Indigenous languages to make it even more accessible for children through schools in Arnhemland.
If you would like to be part of this amazing opportunity to sponsor a book, that will help children share their story and get the help they need to start the healing process and stay safe, head over to our campaign page at https://chuffed.org/project/giving-aboriginal-kids-a-voice
Thank you so much for your support.  One book is one more voice.