This week Christine and I have been preparing for the CAAPS Open Day. CAAPS will be celebrating 30 years supporting Health and Wellbeing in the Northern Territory.
One of the things we'll be offering visitors is an opportunity to make some art. Art therapy is a non-threatening, creative and stimulating way to engage people in stories about their lives. This form of self expression doesn't even needs words, as the story transforms itself from the person's body, mind and spirit onto the blank paper.
While we are using this activity for a bit of fun, it also benefits people who are experiencing illness or pain or are seeking to make major changes towards a healthier lifestyle (such as giving up drinking or smoking). The process invites them to think about the things that will help them move towards healing and a healthy life, rather than dwelling in the symptoms they might be experiencing. This exercise was helpful to me recently in my awfully slow recovery from chronic back pain caused by a bulging disc. I suffered with chronic pain for four months. My 'strong and healthy picture' helped me to stay hopeful, patient and connected with the things that support me in good health, so that the negative thinking and pain didn't pull me back down. It could have been very easy to slip into depression if I didn't keep reminding myself that recovery was possible.
Drawing on Malchiodi's 'Symbol of Health', we've called this exercise developing 'A strong and healthy picture'. These words seem to resonate with Aboriginal folk. Christine and I took an hour and a half of relaxing time to draw and create our own picture using this process.
Step 1. Take a few minutes to think about what makes you feel strong and healthy in your mind, body and spirit. This might include:
People that support you
Activities that make you feel good
Places you like to go
Sports
Food you eat
What you do to make stress go away
Changes you have recently made in your life
Step 2.  Create your "strong and healthy picture" using the materials provided. (We had textas, pastels, magazine cuts/pictures, fabric, glue and scissors available).
Step 3.  Is there anything missing? Add the things you would like to have more of in the future.
Step 4.  Take your picture home and put it in a place to remind you about what keeps you strong and healthy and any future goals.
At the end of our creative session, I invited Christine to reflect on her picture.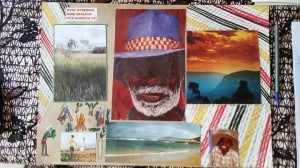 What is your picture about?
It's about the old man telling stories for kids and the land. About painting too. He teaches them how to make the camp fire. Doing dancing and singing. Catching kangaroo and yam.
How do all these things keep you strong and healthy? Why are they important to you?
It's the way he teaches young people, to keep our knowledge strong. And telling us, how to hunt, how to do [culture things]. When you see the picture it's going to tell you clearly how you're to do things.
Where do you see yourself in the picture?
Here, where the land is. It keeps me strong in the nature. How we go to hunt. How we go to catch something to feed for ourselves. There's a lot of things we can get from the sea – seafoods. Even something from the land, bush tucker.
How do you feel when you're out there on country?
Good. I feel great. And it makes me get lots of ideas to think. If I go through the bushes and to the beach, ideas come to me.
Is it like 'strong thinking' out there?
Yes, feel strong in my mind.
If this picture could talk to you what would it say?
If family went to the beach for hunting or something, it will tell you everything you can get.
It would say "I've got all the food that you will need"?
Yo, yo.
Creating a positive picture of health and wellbeing can serve as a reminder during difficult times of where you want to be, so that you don't slip back into bad habits or spiral into negative thinking and behaviour.
You don't even need to be ill or suffering to benefit from this uplifting activity. Why not take an hour to indulge yourself this weekend? Find a spot where you can be alone, put on some relaxing music and get creative!