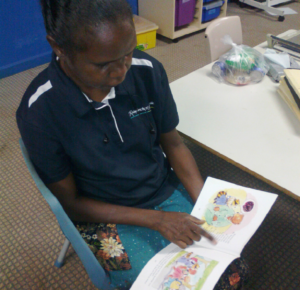 In Aboriginal culture, storytelling is a way of connecting with the relationship system, an ancient tradition that has been practiced throughout the generations. Often it is Elders telling their grandchildren stories about their ancestors, that have great significance for their future lives.
In Western cultures it could be adults reading fairy tales or adventure stories to children at bedtime.
Children are great story tellers too.
If we take the time to stop and listen carefully, they have great adventures to tell. Children are active little people, learning new skills and taking on knowledge from role models around them. These things help them grow and develop, and come in handy when times get tough.
When children are living with violence in their families, they are drawing on the skills, knowledge and strengths they have learnt, to help them cope, keep themselves safe and stay strong. They are standing up to violence!
Children who live with violence in their families and communities, come from all parts of Australia and many different cultural backgrounds.
When I was working as a children's counsellor in remote Aboriginal communities between 2009 and 2013, I heard many stories of violence and trauma and helped the children document their strengths and abilities in surviving these hard times. I recently reconnected with one of these boys whom I supported for several years and is now in high school. He and his Aunty gave me permission to share publicly one of the stories he wrote, in the hope that it might help other children who are also experiencing violence or abuse.
Feel free to download and share this story with any children you may be working with.
A story about Anger

You or your client may also like to send a story back to us (email lucy@metaphoricallyspeaking.com.au). I am happy to send on messages to the author of this story. Here are some questions that might guide your message.
As you listened to the story, were there any words that caught your attention? Which ones?
When you heard these words, what pictures came to your mind about the person and what is important to them (eg. their hopes, dreams, values and beliefs)? Can you describe that picture?
What is it about your own life that helped you connect with these words and pictures?
How might you think and act differently, after having heard this story?
We hope by sharing this story, that other voices of children living with violence are heard loud and strong.
I have a dream that we might be able to gather a whole collection of children's stories of experiences of trauma and resilience. And that this might be shared with the adults who have used violence or abuse in their relationships.
This may be just the tool needed to help those languishing in our prisons to think about the impact of their behavior on their loved ones and the possibility of a different way of living.