Shock.  Disbelief.  Disgust.  Anger.  Sadness.  Despair.  I have been through the whole gammit of emotions this week.  So if this is how I have been feeling, how must my Indigenous brothers and sisters be feeling in Australia right now?
I cannot let this week pass without saying something about what I have been feeling and thinking as Aboriginal people around Australia are forced into a position of protest (yet again).  You would have seen it.  You couldn't escape it.  Images of an Aboriginal boy shackled to a chair at the hands and feet, a spithood over his head.  And surrounded by four guards in Don Dale Junenile Detention Facility (or hellhole as it has recently been referred to).  It is the worst kind of child abuse I have ever seen captured on camera, delivered at the hands of guards whose duty is to uphold some form of justice!
Images of torture and trauma in the NT Juvenile Justice system have sent shockwaves across the country resulting in uproar from every section of society.  Thankfully this uproar is a sign that as a country we do care.  There are some of us that haven't lost our humanity, despite the actions of our Territory Government who have brainwashed us into thinking otherwise with rhetoric about tough love, punishment and needing to come down hard of criminals.  This action by our criminal justice system has well and truly crossed the line.
I simply cannot fathom what it must be like to be a child in juvenile detention, being locked into solitary confinement in a cell barely bigger than my bathroom, having to eat with my hands and experiencing violent abuse at the hands of those that are supposed to be much wiser than me.  It brings me to tears whenever I think about it.
What annoys me most of all is the ignorance of those who choose to comment on social media about 'bad children who are getting the treatment they deserve'.  I couldn't read the comments myself as it would only make my blood boil.  But I hear about them.  The fact is no-one ever deserves to be treated this way in a justice system, no matter what they have done.  That is why we have the UN Declaration of Human Rights.  These are children for god's sake.  Juvenile justice is our one opportunity to show a better way, to put our kids on the right path.
It is highly likely these youth have experienced a lifetime of trauma starting in the first 1000 years of their life.  The last thing they need is an infliction of further trauma.  By the time adolescence rolls around, this is final intervention point to alter the neurological makeup of this child heading into adulthood.  To reprogram their subcortical structures into one of empathy and love, rather than the one of violence and destruction they have been programmed for.
This morning, I attended a rally in Darwin about the NT Justice System and how it is inflicting cruelty on our young people, 97% of whom are Aboriginal.   Since the day of Invasion, we continue to punish and inflict pain onto those who are the most marginalised in our society.  These youth are the latest victims of years of intergenerational trauma.
John B Lawrence is a barrister in Darwin and has represented many young people who have been the victim of inhumane treatment at Don Dale.  His words at the rally were powerful and angry.  Please take time to listen to some of his speech below.  It is people like this standing up, speaking out and taking action, that will help in some way to start to heal the wounds of this dreadful week.
Hopefuly the events of this week inspire you to action.  If we want this Royal Commission to be a fair one it must have a totally independent Commissioner at the helm, not the one that has been appointed.  You can make a real difference by putting your concerns in writing and sending them to Malcolm Turnbull here.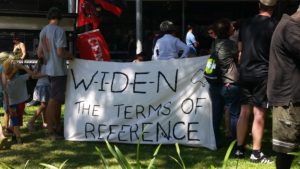 You might want to address the following concerns raised by the rally this morning as follows.
To address youth Justice issues and call for;
The appointment of a fair-minded Attorney-General
The removal of young people from current detention facilities now and placed in appropriate secure accommodation
Adequate resources for the Royal Commission into youth detention
Redress for youth victims & their families
Government leaders to address social matters instead of de-funding social services
On a final note, it is easy for a sense of hopelessness to take over in weeks like this.  I have found it useful to retreat into the healing peace of music. Today I've been playing Spirit Bird by Xavier Rudd.  Enjoy.
Podcast: Play in new window | Download