This workshop has been cancelled due to lack of interest. 
We apologise for any inconvenience caused.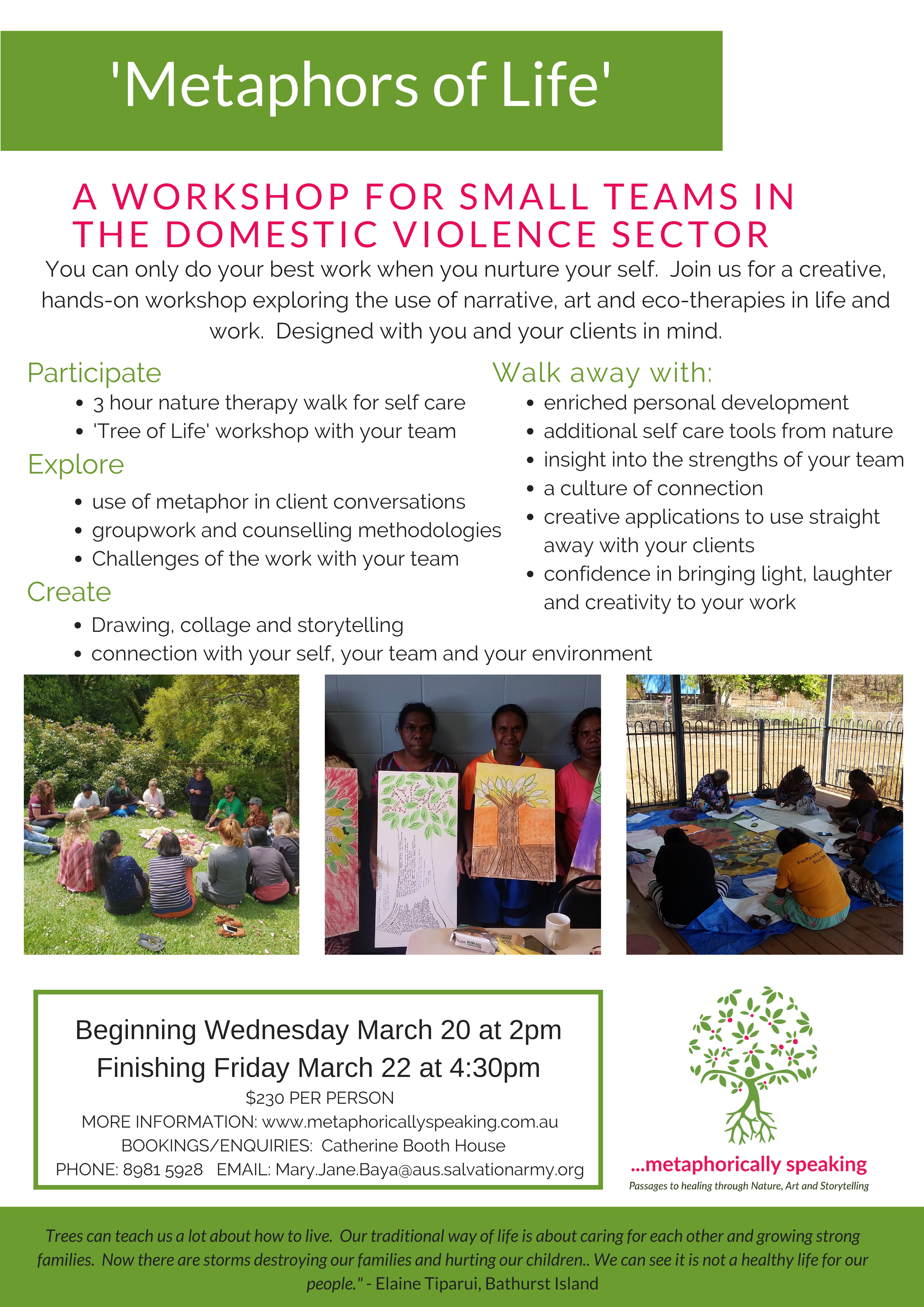 Workshop Overview
Here is a brief overview of what we will cover in this workshop.
Day One.
You will be guided on a Nature Therapy Walk at an outdoor location in Darwin.  This is your chance to slow down, relax and develop a closer connection to nature.  As you will be experiencing this walk with members of your team or workplace, outcomes also include developing trust in relationships, greater harmony and connection with your team.  This is about personal self care for you as a worker as well as promoting health and well-being at work.  The walk will run for three hours at a very slow, mindful pace, and cover no more than one kilometre.  Suitable for all fitness levels.  Through your own immersive experience, you will gain insight into how the forest works as therapist for those seeking healing.
For more on the practice of nature therapy, see our Corporate Wellbeing page.
Day Two.
We will debrief the Nature Therapy walk from Day One, discuss what nature therapy is, look at the scientific research behind this approach for health and well-being, and explore possible applications with clients.
The remainder of the day will be an interactive 'Tree of Life' workshop using the metaphor of the tree to explore your life and work.  You will create your own tree using a range of art materials.  Your tree will form part of the larger 'forest' with your team members and other workshop participants.  The collective experience will allow us to explore the strengths of your work team.  We will also share stories about 'the storms' or things that set to challenge us in our work, the effects this has on our team, and the things that sustain us to help us rise above the challenges.  Your collective knowledge, skills, values, commitments and hopes will form the basis of a narrative collective document for your team to keep, as a resource to draw on in future challenging times.
Day Three.
We will debrief the Tree of Life activity from Day Two and discuss the application of this methodology to your client work with individuals or groups.  Lucy will present back to you a narrative collective document featuring your stories from Day Two on the ways your team is responding to challenges in the work.  Examples of other collective narrative documents will shared and applications to group and community work explored.
Lucy will introduce three other narrative therapy methodologies – The Team of Life, the Journey of Life and Recipes of Life. These will be explored through your own creative drawing and mapping processes, discussions about the use of metaphors for exploring hardship and strengths, hearing directly from a past client about her migration of identity from domestic violence, and looking at a recipe book of life experiences.  We will discuss how these methodologies might be applied to your context in case work, counselling and group work.
You will take away lots of practical tools, resources and further reading on all the topics covered.
About the Facilitator – Lucy Van Sambeek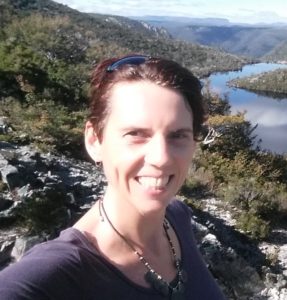 I am an Accredited Mental Health Social Worker with over a decade of experience in the Northern Territory, working therapeutically with children, youth, women, men and families who have experienced trauma, many of whom were from remote and urban Aboriginal communities.  This work included one-to-one counselling, group work and community development projects.  I am now living on Gumbaynggirr country (Mid North Coast) in NSW to follow my dream of establishing a healing place in the bush.
I have been inspired by the spiritual knowledge of Tiwi and Yolngu Elders who have shown me that 'going bush is the best medicine' for people who have lost their way or have experienced problems with addiction, violence and mental health issues related to traumatic experience.  Using metaphors from nature to aid communication became part of my therapeutic approach to promote healing and recovery.  I went on to study nature therapy and become a Certified Guide with the Association of Nature and Forest Therapy (ANFT) based in California.
It is my passion to introduce people to the benefits of nature connection for good health and social and emotional wellbeing, using an evidence-based, trauma informed approach.   First Nations peoples have always known about the healing powers of the bush; the scientific evidence is now becoming mainstream, demonstrating the wellness benefits of being in nature.  A Nature Therapy intervention allows people to develop skills in mindfulness practice, that can be translated to other parts of their lives.  Like the traditional cultural practice of 'dadirri', participating in nature therapy shows us how to listen deeply in quiet still awareness through experiential learning.
I also incorporate nature metaphors in my counselling, groupwork and learning workshops.  Aboriginal people have been communicating in metaphor since time began, through their dreaming stories and ancestors.  Metaphors are a common part of our language to convey meaning through story.  I've discovered that yarning about problems using nature metaphors gives people a safe place to stand to tell their story without re-traumatising them.  Using a combination of art and narrative therapies within methodologies such as 'The Tree of Life', allows stories to flow and concepts to be communicated, in visual as well as verbal forms.  The power of metaphors in healing also inspired me to write 'The Life of Tree', a therapeutic picture book designed to help Aboriginal children speak up and share their experiences of living with violence or other trauma.
You can read more about my personal journey here and my professional Bio.
Bookings and Enquiries
Please register your interest in this workshop by contacting Mary Jane Baya at Catherine Booth House on Mary.Jane.Baya@aus.salvationarmy.org or phone 8981 5928.
If you have any further enquiries, please don't hesitate to Contact Us.
Download pdf version of flyer here DV Workshop Darwin