Saturday April 13,
2pm to 5pm.
Swans Road Crossing Picnic Area,
Orara East State Forest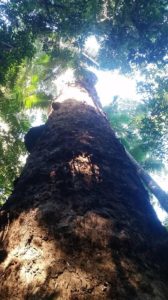 About this Walk
Feel like your life is speeding by?
Or your head is too noisy?
The medicine of the forest is waiting!
Experience the practice of shinrin yoku (or forest bathing) in your beautiful backyard – the Orara East State Forest.
This short 3 hour walk will focus on the beauty of stillness, slowing down and and letting go your worldly concerns. Nature and Forest Therapy Guide, Lucy Van Sambeek invites you on a slow gentle walk to help you (re)connect with the more-than-human world and engage all your senses, enfolded in nature's stillness.
Research has shown that being in nature has many health benefits including better immune function, lower blood pressure, reduced stress levels, decreased depression and anxiety, increased focus and concentration, better mental performance and creativity, better sleep and much more. The natural chemicals secreted by evergreen trees, collectively known as phytoncides, have also been associated with producing cancer-fighting natural killer (NK) cells in our body.  
People on nature therapy walks report feeling happier, developing deeper more meaningful relationships, feeling more connected with the land and its species, having more energy and developing a more attuned intuition.
Be Still and Listen to Nature Speak.
Meeting Spot
We will meet at the Swans Road Crossing Picnic Area, just off Bruxner Park Road.  Download a map here.
Important things to note
There are no toilets available on this walk.  Please tend to your bathroom needs before you arrive.  The nearest public toilets are at Sealy Lookout.
Suitable for ages 14+ and people of all fitness levels.  Distance covered is less than 600m.  Some uneven ground and slopes will be experienced on this trail.
This walk will start promptly at 2pm, therefore it is suggested you arrive at 1:45pm to receive the necessary briefing.  In the interests of other walkers who arrive on time, we appreciate your co-operation.
In the case of rain, a note will be put on the Facebook page event if cancelled.   Generally if it is just a shower or sprinkle the walk will continue as this is a beautiful opportunity to explore our relationship with water.   If it is a  storm which threatens our safety, it is likely to be cancelled.  If in any doubt don't hesitate to call Lucy on the day on 0417 927 657.
What to Bring
Covered walking shoes and protective clothing (essential)
Water bottle
Hat
Sunscreen
Mosquito repellent
Yoga mat, kneeling pad or sarong to sit on (optional)
Wet weather gear (just in case)
Refund Policy
Refunds are available via Paypal up to 12 hours notice prior to this event.  Please use the contact email below should you need to cancel your booking.
Bookings
$20 Health Care Card Holders and Students.  ID must be presented at walk.
Due to small group sizes, only limited tickets available.
Any queries about bookings can be forwarded to Lucy on lucy(at)metaphoricallyspeaking(dot)com(dot)au or phone 0417 927 657.