One of the saddest things about working in remote communities of Northern Australia is the constant and ongoing presence of grief as families mourn the loss of loved ones. To have four funerals a month seems the norm. If this occurred in a small white community of 1,500 people, this would be considered outrageous! But in Aboriginal communities, it is the reality of their lives.
If you are Aboriginal, you can expect to die 10 to 12 years earlier than non-Aboriginal people. But the gap widens to 14 years if you are Aboriginal, male and live in the Northern Territory. This is worse than many third world countries!
Topping the biggest killers list are heart disease, cancers and injuries. The NT can also lay claim to the highest suicide rate in Australia – 20 deaths per 100,000 – because one third of its population is comprised of Aboriginal people.   The majority of these suicides involve Aboriginal children and young men.
So you're starting to get the picture. Aboriginal people are grieving the loss of loved ones every day! Healing is an ongoing process where no end point is ever reached.
As I interviewed Shane Kerinauia this week, his home community of Pirlangimpi were awaiting the outcome of a young man missing for six days. It now appears he was taken by a crocodile. I can't imagine how a small community of 400 deals with this!  But they will. They will cry together. They will seek comfort in each other. And they will continue on, because that is just what they do.  For Shane, our guest blogger, he often thinks about the 3 really close school mates he lost at a young age and more recently, a cousin in a car accident. One thing that helps ease the pain is thinking about good memories.
"I keep thinking about the old school days. We used to share stories and talk about playing sports. I used to go around to his place, to his brothers and he used to come over to my place.   We used to share things. We used to talk about his AFL footy star. We used to bag each other out or make a bet. If your team wins, I buy you a drink. I feel like he's still alive again. I will still have the good memories for the rest of my life."
Sometimes it's difficult to juggle the cultural obligations that come with attending ceremonies, with personal responsibilities such as holding down a job.
"I missed his funeral because I had to work. It's hard. I haven't seen his family yet. It's the feelings that will come. I feel shame, not confronting them. I want to leave that shame to rest. Not to think about it too much. I am comfortable with taking the time I need. You can go and visit the family later and it's okay."
Shane talks about the good ways of coping with difficult feelings.
"Last month or too, I've been down a lot. I've got other mates I can go and yarn to. My mate is feeling down as well. We have a conversation, reminiscing together about the school days. [We're] mates sharing the tears together. Hugs and crying help too. I talk to my partner about the feelings in my head and she gives me a hug. I've been talking to my mum too. I share my feelings with lots of different people. It's not Tiwi way, to drink, get drunk and then cry. I don't believe in that."
Shane says an important part of the healing process for Tiwi people is about giving the person a proper ceremony.
"I believe in getting together and grieve proper way. Before they bury the person, family get together and do a healing. Singing, sharing things to each other, just having a laugh, sharing food together, BBQ, good memories.   We listen to the Elders. They tell us you gotta be strong. Don't let that memory affect you….. When a person dies, other people that have died come along, just to let us know they're here with us, to take the person away with them. It's a comforting thing. We sit down quiet.   Next day we have smoking ceremony. It's very important for us to have this ceremony, to smoke the spirit away. If we don't smoke the house, the spirit is still living there."
Tiwi people have a special spiritual connection to those that have gone before them.
"Sometimes when we feel the energy of a person, it's a comforting thing. Once when I was at the pool, I could feel [my partners dad] there, telling me to go back to work. It was nice to hear. Everytime I am there, I can hear him. Sometimes I get goosebumps. It puts a smile on [my partners] face. It's like he's watching over me. I feel comfortable with it. Safe. He gives me a message. "
And Shane's final words about healing from loss?
"Be strong. Be yourself. I am strong for my family. My relatives are the most important thing in my life. I just want to do things I want to do. Fishing and hunting and camping. Go and visit families and friends. If my daughter even has to go through what I've been through, I'll be able to support her."
The strong spirit and resilience of Aboriginal people's lives in coping with loss shines through in Shane's story and so many people like him. I thank him for his willingness to share his story.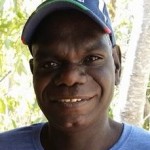 Shane Kerinaiua is currently employed at CatholicCare NT with The Strong Men's Program. He won the Aust-Swim Water Safety National Award in 2011. He holds the record for the most goals kicked in a year in the Tiwi Football League.